Navantia Said to Be in Negotiations With Saudi Arabia for 5 Avante 2200 Corvettes
| | |
| --- | --- |
| | According to Spanish daily newspaper La Voz de Galicia, Spanish shipyard Navantia is said to be in advanced negotiations with Saudi Arabia for five Avante 2200 corvettes. The newspaper talks about "final phase" of talks. It is likely that Navantia is competing against Lockheed Martin who is offering four Multi-Mission Surface Combatant (MMSC) Ships, an export variant of Lockheed Martin's Freedom class LCS currently in use with the U.S. Navy. |
a
Naval Industry News - Spain, Saudi Arabia
Navantia Said to Be in Negotiations With Saudi Arabia for 5 Avante 2200 Corvettes
According to Spanish daily newspaper
La Voz de Galicia
, Spanish shipyard Navantia is said to be in advanced negotiations with Saudi Arabia for five Avante 2200 corvettes. The newspaper talks about "final phase" of talks. It is likely that Navantia is competing against Lockheed Martin who is offering four Multi-Mission Surface Combatant (MMSC) Ships, an export variant of Lockheed Martin's Freedom class LCS currently in use with the U.S. Navy.
We just revealed the design of the MMSC last week while attending the SNA 2016 show.
Follow this link to see the pictures
.
The ships are being offered as part of a modernization program of the Saudi navy's eastern fleet called SNEP II (Saudi Naval Expansion Program). Saudi Arabia has already commited to purchase
10x MH-60R Romeo helicopters
as part as SNEP II.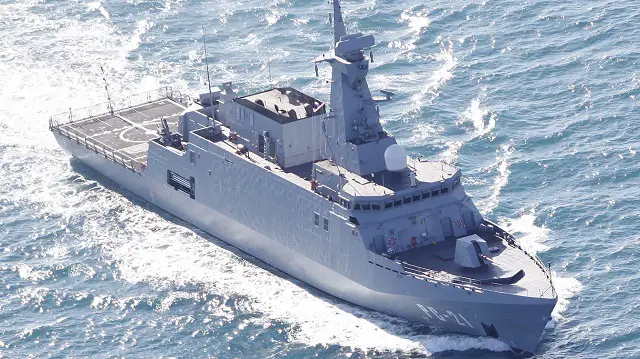 Venezuelan Navy Guaiquerí class patrol vessel (Avante 2200 Combatant) head of class.
Picture: Navantia
The Avante 2200 corvette offered to Saudi Arabia is said to be a variation of the design selected by the Venezuelan Navy, where it is known as the Guaiquerí-class patrol boat.

The vessel has a displacement of 2,200 tons with a length of 98.90 meters and a maximum speed of 25 knots. It was designed for low intensity missions such as patrol in the economic exclusive zone (EEZ), safeguard of sea lanes of communication, intelligence gathering, environment protection, drugs smuggling prevention, humanitarian relief and search and rescue operations. Venezuela procured four vessels of this class.
The F-538 Frigate design showcased by Navantia during NAVDEX 2015 in the UAE
A slightly larger variation of the Avante 2200 design is the Avante 3000/2400 (or F-538) design which we covered last year during NAVDEX 2015, a naval defense exhibition held in Abu Dhabi, UAE. Navantia representatives at the show told us it was representative of a design being proposed to the Peruvian Navy. But since this configuration appears to be much closer what is being offered by Lockheed Martin with the MMSC, Navy Recognition believes it is possible that Navantia is offering a vessel of this design to the Royal Saudi Navy as well.
As we reported during NAVDEX 2015: With a moderate displacement of about 3,800 tons, the F-538 is Navantia's answer to navies looking for mid-size frigates to conduct a wide range of missions. The F-538 is quite uniquely fitted with 2x Millenium guns and 1x RAM launcher.
More details on this design
at this link.