a
Naval Forces News - Russia
Pella Shipyard Launched Advanced Ocean Survey Vessel Ilmen
The Pella Shipyard in St. Petersburg in northwest Russia has launched the advanced Project 11982 ocean survey vessel Ilmen, the Defense Ministry's press office said. The launching ceremony was attended by Chief of the Defense Ministry's Main Directorate for Deepwater Survey Vice-Admiral Alexei Burilichev, Deputy CEO of the Pella Shipyard Sergei Kukhtik, the administration of the Almaz Central Marine Design Bureau and Navy officials.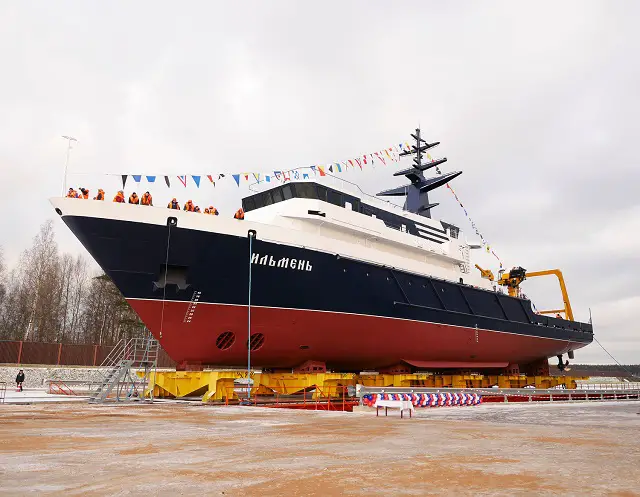 Project 11982 ocean survey vessel Ilmen

"The ocean survey vessel has the most advanced research and ocean survey equipment. It can take part in search and rescue operations. The vessel Ilmen features a dynamic positioning system that keeps the vessel in the assigned place, which is extremely important while examining distressed objects on the seabed," Burilichev said.

After the outfitting work and the test program are completed, the vessel Ilmen will join the Russian Black Sea Fleet.

Commander of the vessel Ilmen Captain 3rd Rank Alexei Golubev said that the crew had undergone training at the Navy's United Training Center and was ready to operate all the shipborne systems and equipment.

"The crew is proud to serve onboard this perfect vessel and will accomplish all assigned missions with honor," Golubev said.



© Copyright 2017 TASS. All rights reserved. This material may not be published, broadcast, rewritten or redistributed.



Comment:
The vessel of project 11982 is intended for carrying out tests of special technical means, participation in search and rescue operations, conducting research and oceanographic works. The length of the vessel is 63.8 m, width - 10.8 m, maximum draft - 3.8 m, speed - 12 knots, cruising range - 1 thousand miles, autonomy - 20 days, crew - 16 people, composition expedition - 20 people.