Russian Navy Chief: Project 22350M Frigates to become main blue and green-water warships
a
Naval Forces News - Russia
Russian Navy Chief: Project 22350M Frigates to become main blue and green-water warships
The Main Russian navy command and the Admiralty coordination council of navy veteran organizations held a joint meeting in St. Petersburg. Navy Commander-in-Chief Admiral Vladimir Korolev delivered a report on fleet buildup in 2017 and prospects up to 2030.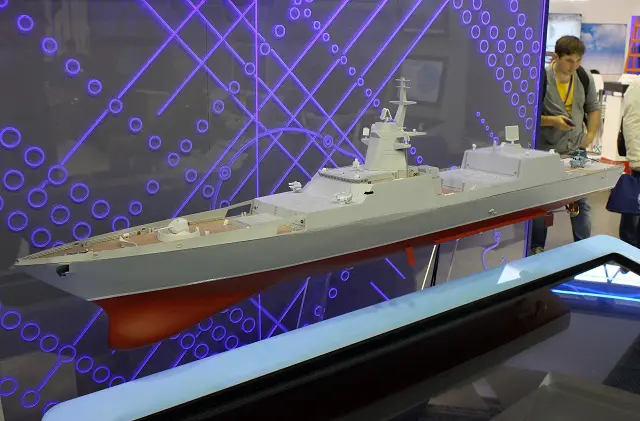 Scale model of an improved Project 22350 frigate on display during IMDS 2017. Note the increased number of VLS cells, just in front of the bridge and in front of the helicopter hangar. It also features the new generation integrated mast of the same family as the one fitted aboard the new Project 20385 corvette. Picture by Curious via Forums.airbase.ru.
"The Main navy command is positive about prospects of all navy components due to scientific and technical progress. We have already planned over 10 R&D to create perspective warships. Thus, the state arms program envisages that the navy would receive new and upgraded blue (sea zone) and green-water (ocean) ships. The upgraded frigate of project 22350M with high-precision weapons will be the main one. The brown-water (close zone) warships and boats will tend to improve efficiency and combat capabilities. This force will develop mostly due to new ships armed with high-precision weapons," he said.

The Russian navy will continue upgrading the deployment network and ensuring balanced supplies of arms and munitions. The arrival of new warships demands accelerated development of the navy deployment system. The main effort focuses on the construction of infrastructure for new-generation surface ships and submarines, as well as seaborne aviation on the main and operational airfields.

The Russian navy will continue to develop the Arctic and ensure naval presence to support a favorable operational regime and ensure safe maritime operations of the Russian Federation on strategically important sections of the Northern Sea Route - the Kara Sea and Strait, the Chukotka, Bering Seas and Strait, Korolev said.

The main navy development guidelines will maintain the combat potential of strategic nuclear forces at a proper level due to the construction of Borey-A-class SSBN of project 955A and Borey-B-class of project 955B, the development of general-purpose naval forces due to the construction of brown, blue, and green-water warships, upgrading warships with a major modernization potential, the supplies of modern flying craft for naval aviation and coastal units of the navy and the development of precision weapon carrying warships.

© Copyright 2017 TASS. All rights reserved. This material may not be published, broadcast, rewritten or redistributed.

Navy Recognition comment:
The Modernized frigate of project 22350 (now apparently designated Project 22350M by the Russian Navy) was first unveiled during the IMDS 2017 naval show. United Shipbuilding Corporation Vice President for military shipbuilding and Northern Shipyard Director General Igor Ponomarev declared at the show held this year in St Petersburg that "they have more powerful armaments and can operate as destroyers", inferring that Project 22350M could actually replace the Lider-class of destroyers.