a
Naval Defense Industry News - UK
Royal Navy's Type 26 Frigates to Be Fitted With Thales CAPTAS-4 Sonar 2087 Variable Depth Sonar
Thales announced that it has been awarded a contract by BAE Systems to supply its anti-submarine warfare sonar for the Royal Navy's new Type 26 frigates. The announcement to equip the first three ships helps secure around 70 jobs across Thales and its supply chain. The main manufacturing and maintenance work will be carried out across Thales sites in Manchester, UK and Brest in France.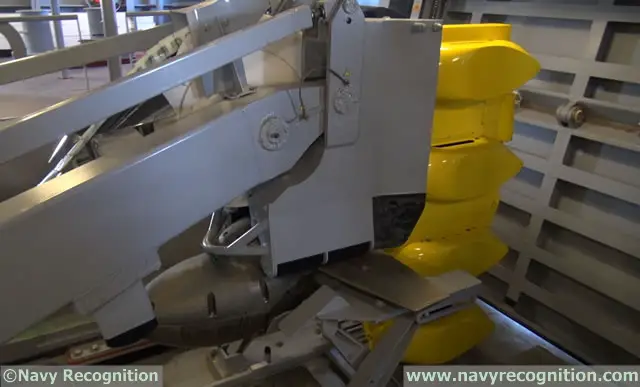 CAPTAS-4 Variable Depth Sonar (and parts of the handling system) aboard a French Navy FREMM Frigate (Aquitaine class).
A number of UK-based specialist technology companies are also involved in the supply chain for the Type 26 programme, including the supply of inboard hardware cabinets from AISH Technologies in Dorset and Aero Stanrew in Devon.

Currently, Thales UK's maritime business employs 300 employees at Cheadle Heath and a further 450 at Templecombe. The business manufactures highly-complex sonar systems for a variety of platforms, including ships, submarines and helicopters for the Royal Navy and a number of international fleets.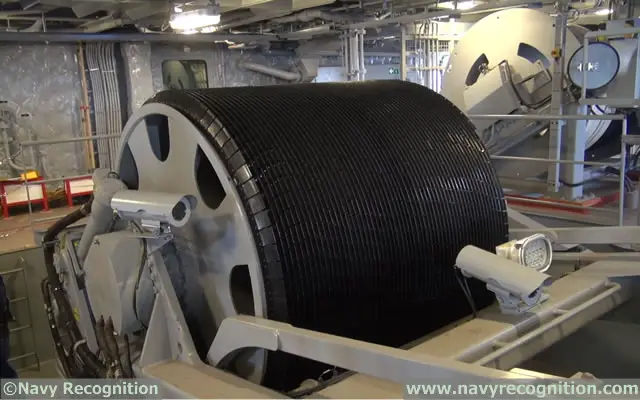 Reeling system for the CAPTAS-4 Variable Depth Sonar tether aboard a French Navy FREMM Frigate (Aquitaine class).

The Type 26 will be capable of undertaking a range of roles from anti-submarine warfare operations and humanitarian assistance. The programme is set to continue into 2026 with a five further ships anticipated to be built.

Thales is the current provider of anti-submarine sonar to the serving Type 23 frigate fleet. This latest announcement firmly establishes Thales' position as the key sensor provider to the Royal Navy across its sonar, electronic warfare, optronics and communications capabilities. This allows Thales to leverage common technologies and architecture to provide benefits across all Defence Lines of Development.
The Type 26 will replace the UK's Type 23 frigates, with the first set to enter service in the early 2020s and the last remaining in service beyond the middle of the century. BAE Systems image.

CAPTAS-4 / Sonar 2087 is a sophisticated towed array system, which enables warships to hunt submarines at considerable distances and detect them beyond the range from which they can launch an attack.

The Royal Navy currently operates its Type 23 frigates with Merlin helicopters fitted with Thales FLASH-dipping sonar which can be used to pinpoint the submarine from the air. The Navy has described the combination of 2087 and FLASH as 'world beating'.