UAE Navy Orders Two Gowind Corvettes from France
.
a
Naval Industry News - France, UAE
UAE Navy Orders Two Gowind Corvettes from France
French President Emmanuel Macron announced today that the United Arab Emirates (UAE) ordered two Gowind corvettes from French shipbuilder Naval Group (formerly DCNS). President Macron made the announcement during a press conference in Dubai.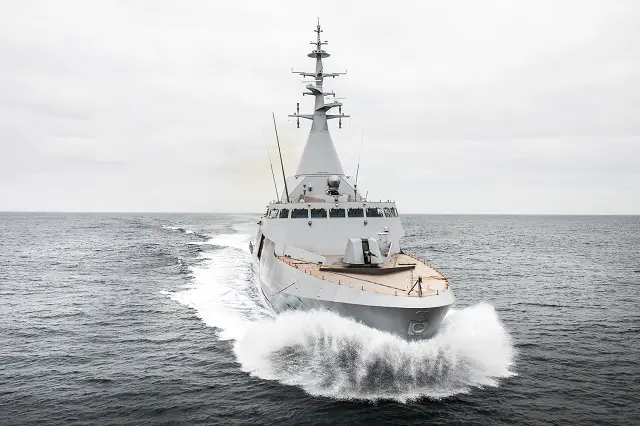 The first Gowding Corvette of the Egyptian Navy, ENS El Fateh (971). Naval Group picture.

The deal includes an option for two more vessels (for a possible total of four corvettes). The corvettes will be built by Naval Group in cooperation with local shipbuilder Abu Dhabi Shipbuilding (ADSB).

Contacted by Navy Recognition, an industry source explained that the corvettes would have quite a unique configuration: They are set to be fitted with the Tacticos combat management system (instead of Naval Group's own CMS, the SETIS) as well as US-made missiles (including ESSM by Raytheon): This is significant as it is the first time Raytheon missiles are fitted on a Naval Group/DCNS-built vessel.

Our source added that those specific equipments (Tacticos CMS and ESSM) are direct requirements from the end customer: The UAE Navy.

The Gowind design was in competition against Navantia's Avante 500, Damen 6110, CMN BR71 MkII, Fincantieri Abu Dhabi class and likely the Turkish MILGEM corvette design. For more information, check out our detailed coverage during IDEX 2017 at this link.

More details on the configuration of the future Gowind corvettes of the UAE Navy in the coming days.

Update 13/11/2017
Additional details on the future UAE Navy Gowind corvettes are scarce, despite the various sources contacted by Navy Recognition. This is because no deal has been signed yet, negotiations between Naval Group and the UAE Navy are ongoing and these talks include (among other things) systems and sub-systems.

It appears however that one of the key requirements of the UAE Navy for this specific procurement is the anti-submarine warfare (ASW) capabilities of the corvette. In other words, designs based on water jets (Combattante BR71 MkII) or smaller designs (SIGMA 6110 or AVANTE 500) may be considered again by the UAE in the future, but these designs were not considered for the current procurement as they are simply not suited for ASW. On the other hand, Fincantieri was hoping to sell additional Abu Dhabi-class corvettes (ASW variant of the "Comandanti" class vessels).

Several of our sources have now confirmed that the UAE Gowind corvette are very likely going to be fitted with ESSM (and for this reason, the Thales TACTICOS CMS, because ESSM is already integrated with it). We learned that anti-ship missiles will be MBDA's Exocet MM40 Blk III (because of commonality: The UAE Navy already deploys this missile aboard its Abu Dhabi-class corvette, Baynunah-class corvettes and Falaj 2-class stealth patrol vessels). We also learned that a RAM launcher could be fitted on the Gowind corvettes (in a similar ESSM + RAM configuration to the Baynunah-class).

Contacted by Navy Recognition, Raytheon would not comment specifically about weapon types but said the following: "Raytheon has a long and successful relationship with the UAE Navy and CICPA (ed. note: Critical Infrastructure and Coastal Protection Authority, the UAE Coast Guards). We have partnered on many of their classes of ships with ESSM and RAM, and we are continuing to provide support for their current decisions with our ship self-defense solutions, and systems for many of the proposed offerings. We believe that our long history of success and the performance of our systems will contribute to Raytheon being an integral part of their solution."

Decoy launching systems and decoy types have not been decided yet. All 10 Gowind vessels ordered to date (Egyptian and Malaysians) are set to be fitted with Lacroix's Sylena Mk2 systems and corner reflector decoys. However the UAE Navy is a long time user of Rheinmetall's MASS system.

We didn't get much details about sensor systems but we believe they will be the SMART-S Mk2 radar and CAPTAS-2 variable depth sonar by Thales (systems slated to be fitted aboard the Egyptian and Malaysian corvettes).

Last but not least, the two corvettes on order are set to be built in France, at Naval Group' shipyard in Lorient, Brittany. Some of the weapon systems are likely to be installed in UAE at ADSB shipyard, ADSB having the experience of integrating ESSM and RAM aboard its locally built Baynunah corvettes.

Hervé Guillou, Naval Group CEO, made the following statement:
"We are proud that the authorities of the United Arab Emirates have selected Naval Group's Gowind® corvette design, and our UAE industrial partner ADSB will continue discussions with the Armed Forces to finalize the contract for this project. These Gowind® corvettes are state-of-the-art, multi-purpose combat vessels adapted to the needs of the United Arab Emirates Navy. "

The first LCS Gowind frigate for the RMN was officially launched and named during a ceremony at Lumut shipyard. RMN picture.
10 units Gowind corvettes already on order
The Gowind series is already a success for Naval Group. Four units have been ordered by the Egyptian Navy (the first one, ENS El Fateh, was recently delivered) and six more units have been ordered by the Royal Malaysian Navy (the first one, KD Maharaja Lela was built in Malaysia and launched this summer).

The new order brings the total number of Gowind corvettes to be built to 12.
Video: Gowind Corvette at IDEX 2017
According to Naval Group, the Gowind® 2500 corvette is packed with the very latest technological advances, developed and implemented by Naval Group for naval defence. It integrates SETIS®, the latest generation of combat systems developed by Naval Group, the "Panoramic Sensors and Intelligence Module (PSIM)" – an assembly that combines the integrated mast with its different sensors and the Control Room and associated technical rooms – and the high level of integration and automation of Naval Group user-friendly systems.
• Displacement: 2,600 tonnes
• Maximum speed: 25 knots
• Crew: 80 persons (including the helicopter detachment)
• Range: 3,700 nautical miles at 15 knots