a
Naval Industry News - Australia
Australia's SEA5000 ASW Frigates to be Fitted with AEGIS Combat System and CEA Radar
The Australian Governement announced a multi-billion dollar investment today at the PACIFIC 2017 exhibition, to equip the future SEA5000 Frigate of the Royal Australian Navy with what it called "the world's best technology". Under the plan, the combat management system for Australia's fleet of nine Future Frigates will be provided by the Aegis Combat Management System, together with an Australian tactical interface, which will be developed by SAAB Australia.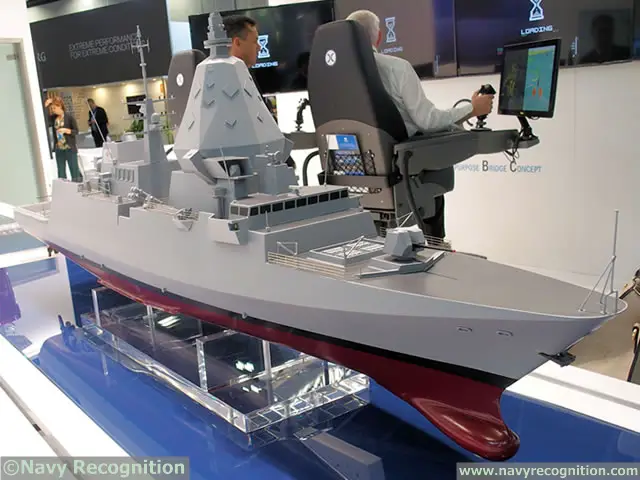 Scale model of Fincantieri's FREMM design for SEA5000 at Pacific 2017
This decision will maximise the Future Frigate's air warfare capabilities, enabling these ships to engage threat missiles at long range, which is vital given rogue states are developing missiles with advanced range and speed.

The Future Frigates will be operating in a complex and growing threat environment. By bringing together the proven Aegis system, with a cutting edge Australian tactical interface developed by SAAB Australia, our Future Frigates will have the best capability to defeat future threats above and below the surface, while also ensuring we maintain sovereign control of key technologies, such as the Australian designed and built CEA phased array radar.
Scale model of BAE Systems Type 26 design for SEA5000 at Pacific 2017
The Australian Governement shortlisted three designs for the SEA5000 ASW Frigate program in April 2016: BAE Systems with the Type 26 Frigate; Fincantieri with the FREMM Frigate, and Navantia with a redesigned F100 – have been short-listed to refine their designs. The frigates will all be built in Adelaide, incorporating the Australian-developed CEA Phased-Array Radar.
Scale model of Navantia Frigate design for SEA5000 at Pacific 2017
The Competitive Evaluation Process is on schedule to return second pass approval in 2018, which will allow for construction to commence in Adelaide in 2020. This program is estimated to be worth more than $35 billion, and will directly create over 2000 jobs.

9 new frigates will be procured as part of the SEA5000 program which calls for the replacement of the RAN ANZAC class frigates. The Future frigate-class is expected to have anti-submarine warfare (ASW) capabilities and the CEAFAR2 radar currently in development by CEA.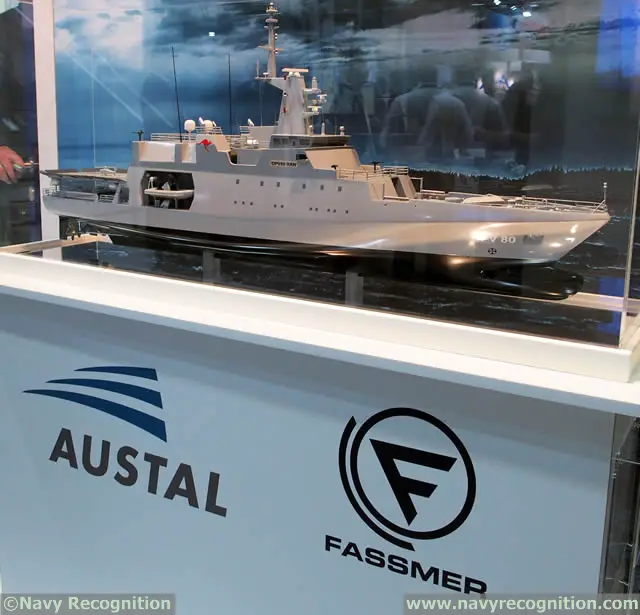 Austal OPV design at PACIFIC 2017
Under the Turnbull Government's new strategic enterprise approach, the Government has now mandated that where the high-end warfighting capabilities of the Aegis system are not required, a SAAB Australia developed combat management system will be used on all of Australia's future ship projects.

This includes mandating a SAAB Australia combat management system on the upcoming Offshore Patrol Vessels, which will be built in Australia from 2018, and an Australian tactical interface developed by SAAB Australia for the Hobart class Air Warfare Destroyers when their Aegis combat management system is upgraded in the future, consistent with the 2016 Defence White Paper.