Curtiss-Wright Selected By Raytheon to Provide Sonar Handling System for US Navy LCS
.
a
Naval Defense News - Canada, USA

Curtiss-Wright Selected By Raytheon to Provide Sonar Handling System for US Navy LCS
Curtiss-Wright's Defense Solutions division announced that it has been selected by Raytheon Integrated Defense Systems to provide its innovative winch system technology for use in a new Variable Depth Sonar (VDS) for the U.S. Navy Littoral Combat Ship (LCS) class. Raytheon recently announced that it had been awarded a contract by the U.S. Navy to develop the VDS, a mission-critical anti-submarine warfare asset that will be deployed from the LCS to locate and track submarines. Curtiss-Wright joins Raytheon's agile, dedicated team of industry experts committed to advancing the design to a full Pre-Production Test Article, expected to be complete in late 2018.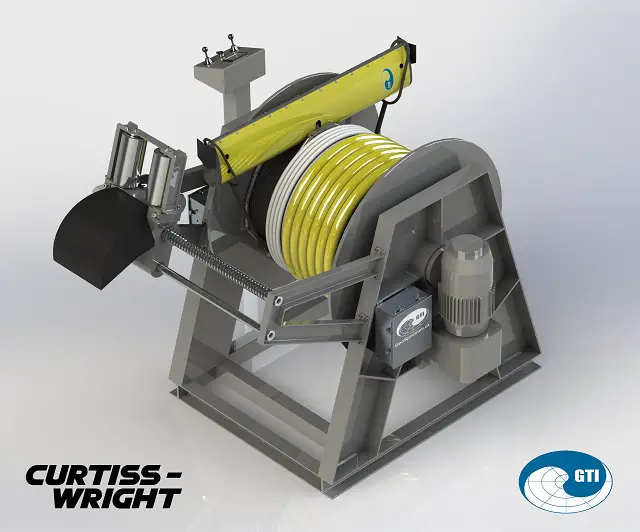 Curtiss-Wright will provide the handling system for the VDS of the Littoral Combat Ships - Anti-Submarine Warfare (ASW) Mission Package. Curtiss Wright image.

"Curtiss-Wright's INDAL business unit will contribute its decades of towed sonar winch and handling system expertise to Raytheon's Variable Depth Sonar team to develop an innovative and lightweight winch solution for Littoral Combat Ships," said Lynn Bamford, Senior Vice President and General Manager, Defense Solutions division. "The reliable and cost-effective variable depth sonar technology will enable the Navy to rapidly introduce this new anti-submarine capability to meet the LCS mission."
Video: Curtiss-Wright sonar system at SNA 2017
The Raytheon team was awarded the VDS contract following a study and product assessment phase during which it proved the solution's features and capabilities met all of the Navy's design and performance requirements. The ship-deployed sonar system design is identical for both LCS variants. It features reduced weight to minimize ship impact and increase maneuverability. The new design also provides the opportunity for increased warfighting payloads.

Curtiss-Wright will manufacture the products covered by this agreement at its INDAL facility in Mississauga, Ontario.