US Navy Awards Bath Iron Works Funding for Two Flight III DDG 51-Class Destroyers
.
a
Naval Industry News - USA

US Navy Awards Bath Iron Works Funding for Two Flight III DDG 51-Class Destroyers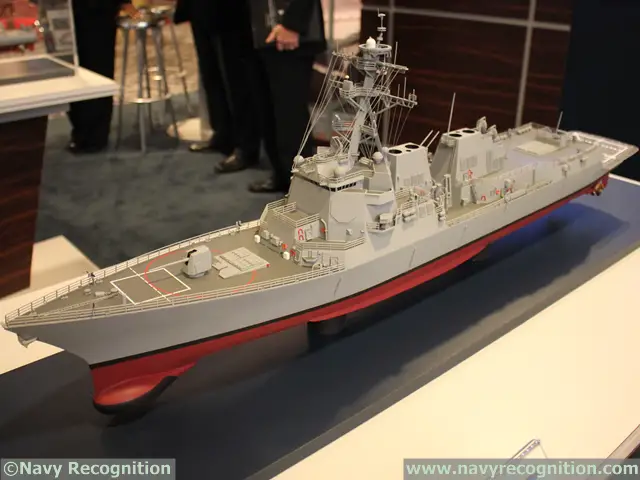 DDG 51 Flight III scale model at SNA 2017
DDG 126 was awarded under the contract that was part of a multi-year competition for DDG 51-class destroyers in 2013. DDG 127 was approved by Congress under separate legislation.

Dirk Lesko, president of Bath Iron Works, said: "These contracts help to stabilize our business and are welcome news. We are grateful to Maine's congressional delegation and Navy Secretary Spencer for their efforts and leadership."
Our video coverage on DDG 51 Flight III during SNA 2017. Huntington Ingalls Industries is building the first in the series.

There are currently four DDG 51 destroyers in production at Bath Iron Works: Thomas Hudner (DDG 116), Daniel Inouye (DDG 118), Carl M. Levin (DDG 120) and John Basilone (DDG 122). The Navy has named DDG 126 the Louis H. Wilson, Jr., after the 26th Commandant of the U.S. Marine Corps, who was a World War II recipient of the Medal of Honor for his actions during the Battle of Guam.

DDG 51 Flight III will incorporate the new Advanced Missile Defense Radar (AMDR) that will replace the existing SPY-1 radar installed on the previous DDG 51 ships. To support the new Flight III systems, the installed power and cooling will be increased accordingly.

The Arleigh Burke-class destroyer is a multi-mission combatant that offers defense against a wide range of threats. It operates in support of carrier battle groups, surface action groups, amphibious groups and replenishment groups, providing a complete array of anti-submarine, anti-air and anti-surface capabilities.