---
The Admiral Kuznetsov heavy aircraft carrier of project 11435 will undergo some modernization necessary for MiG-29K/KUB ship-based fighter jets, Sergei Orlov, the head of the Nevskoye design bureau, said.
---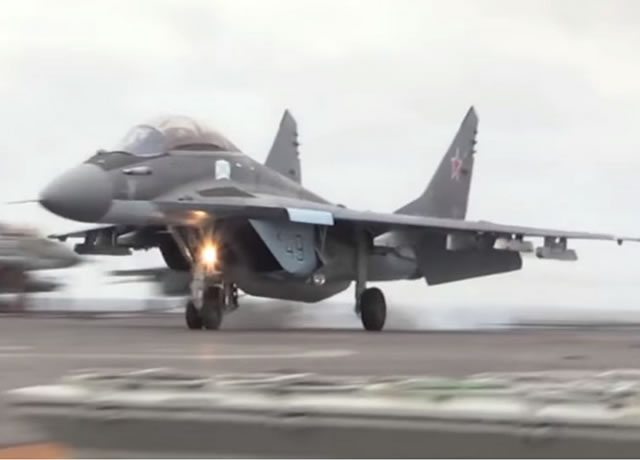 The Mikoyan MiG-29K shipborne multirole fighter jet is a new Russian combat aircraft intended for air defense of naval task forces, air supremacy, and anti-surface warfare.

---
"MiG-29K/KUB fighter jets, Su-33 aircraft and several types of helicopters will be based on the Admiral Kuznetsov's deck. Some enhancements will be necessary for MiG-29K/KUB aircraft. The pilots want something new, upgraded and reliable. The entire complex of the ship's aircraft equipment is going to be modernized," he said.
The Admiral Kuznetsov aircraft carrier of project 11435 is designed to win supremacy at sea and in the air to promote sustainability of the naval forces, strike at adversary positions, and support landing operations. The warship became operational in 1990. Its full displacement is 58 thousand tons and the length is 304.5 meters. Full speed power is 200000HP and the speed is close to 30 knots. Besides an air wing of 24-26 aircraft and 12 helicopters, the Admiral Kuznetsov is armed with anti-ship and anti-aircraft missiles. It has a skijump and 2 aircraft elevators to facilitate the operations of the aviation. The crew of the carrier comprises 1300 men and the personnel of the air wing is 660 people.
The trials of MiG-29K/KUB fighter jets got under way onboard the Admiral Kuznetsov in the summer of 2016. The ship's air group comprised the MiG-29K/KUB fighter jets during a mission to the Syrian shores in 2016-2017.
---
© Copyright 2018 TASS. All rights reserved. This material may not be published, broadcast, rewritten or redistributed.
---