---
Recently, Fincantieri hosted the launching ceremony of the Italian Navy's first PPA (Multipurpose Offshore Patrol Ship, or OPV), dubbed Paolo Thaon di Revel (P430), at its shipyard in Muggiano (La Spezia).
---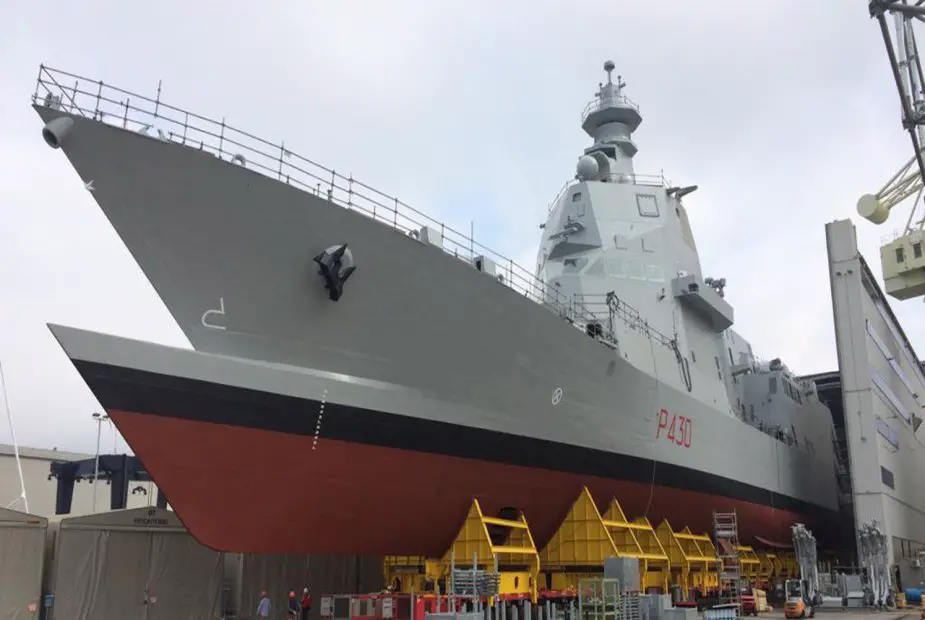 The first PPA of the Italian Navy, the Paolo Thaon di Revel, during its launching ceremony (Picture Source: Fincantieri)
---
The launching ceremony of the PPA (Pattugliatore Polivalente d'Altura) was conducted in the presence of the Italian Minister of Defence Elisabetta Trenta. Godmother of the ceremony was Mrs. Irene Imperiali, nephew of the Admiral Paolo Thaon di Revel (who gave his name to the vessel). The ceremony was attended among others by the Chief of Staff of the Italian Navy, Admiral Valter Girardelli, Fincantieri's Chairman Giampiero Massolo and CEO Giuseppe Bono.
The PPA is part of the renewal plan of the operational lines of the Italian Navy vessels, approved by the Government and Parliament and started in May 2015 ("Naval Act"). The multipurpose offshore patrol vessel is a highly flexible ship with the capacity to serve multiple functions, ranging from patrol with sea rescue capacity to Civil Protection operations and, in its most highly equipped version, first line fighting vessel.
There will be indeed different configurations of combat system: starting from a "soft" version for the patrol task, integrated for self-defence ability, to a "full" one, equipped for a complete defence ability. The vessel is also capable of operating high-speed vessels such as RHIB (Rigid Hull Inflatable Boat) up to 11 meters long through lateral cranes or a hauling ramp located at the far stern.
In 2015, Fincantieri received an order for 7 PPA (Pattugliatore Polivalente d'Altura, Offshore Multipurpose Patrol Ship) as part of the Italian Navy fleet renewal plan. The PPA vessels are planned to replace Navy's four Soldati class light patrol frigates and eight Minerva class corvettes between 2021/2035.
The PPAs will be built at the Integrated Shipyard of Riva Trigoso and Muggiano, with delivery expected, for the first vessel of the class, in 2021, while the following deliveries will take place in 2022, 2023, 2024 (two units), 2025 and 2026.
---
---