---
The first out of 18 of the all-new CB90 HSM has been delivered to the Swedish defence material administration (FMV). A brand new boat, equipped with a lot more than its predecessors: improved speed and manoeuvrability – as well as attack power and surveillance capabilities.
---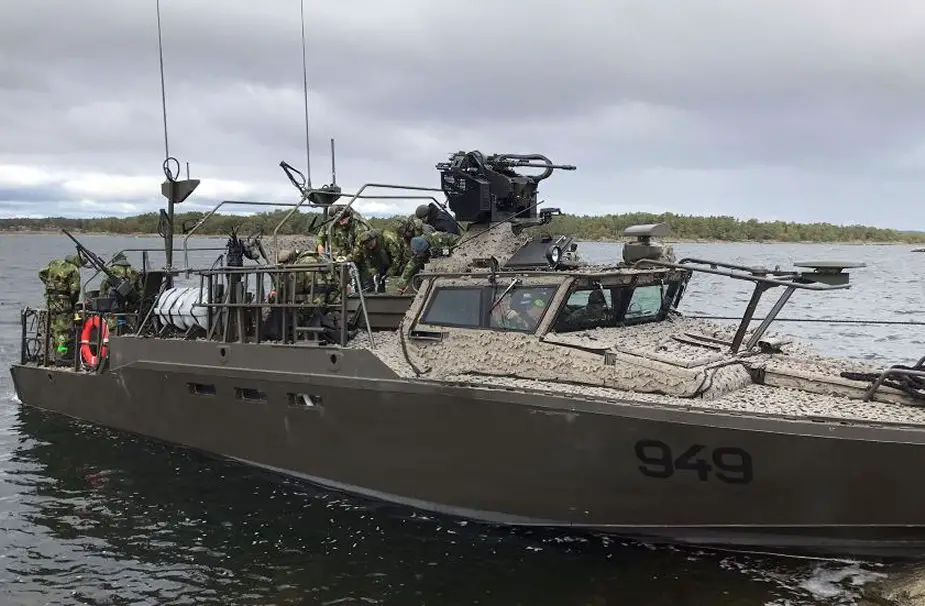 The new CB90 HSM (Picture source: SAAB)
---
With more than 250 sold boats operating worldwide, CB90 has been a success story since the first boat was commissioned. Recently a new model of the proven concept was delivered to FMV; CB90 HSM. The following months another 17 boats will be delivered from Dockstavarvet, part of Saab. Even though it looks similar to its predecessors on the outside, the inside is vastly modified.
An all-new driveline including an adjusted placement of the engine makes the point of gravity optimized, which in turn makes the boat even more stable, faster and a lot more silent. Combined with new jets run on a higher efficiency the total efficiency is greatly increased – as well as the ergonomics and crew comfort.
The unique configuration of Trackfire provides a Stabilized Independent Line Of Sight (SILOS). As the independently stabilized Sensor Module is decoupled from the weapons axes (and hence isolated from weapon recoil effects), the operator is able to maintain the line of sight on the target, thereby greatly reducing target acquisition times. The Trackfire system also allows greatly improved surveillance capabilities through IR cameras.
Furthermore, this configuration enables a target to be continuously lased during the engagement sequence; thereby providing a true comprehensive ballistic calculation including 3D target prediction.
As in all cases of building vessels for the Swedish Navy, CB90 HSM is a result of close cooperation between Saab's Dockstavarvet and FMV, something that Andreas Nordstrand means really brings the best out of us as a supplier. The end-user is always a part of the process, making sure standards are met, in this case, the Naval Warfare Centre and the Amphibious Battalion.
---