---
The U.S. Navy hospital ship USNS Comfort (T-AH 20) arrived in Port-au-Prince, Haiti, for its last medical mission stop in Central America, South America and the Caribbean, November 4, 2019. Comfort's team consists of more than 900 personnel, including medical specialists from the U.S. military, non-governmental organizations volunteers, and personnel from partner nations.
---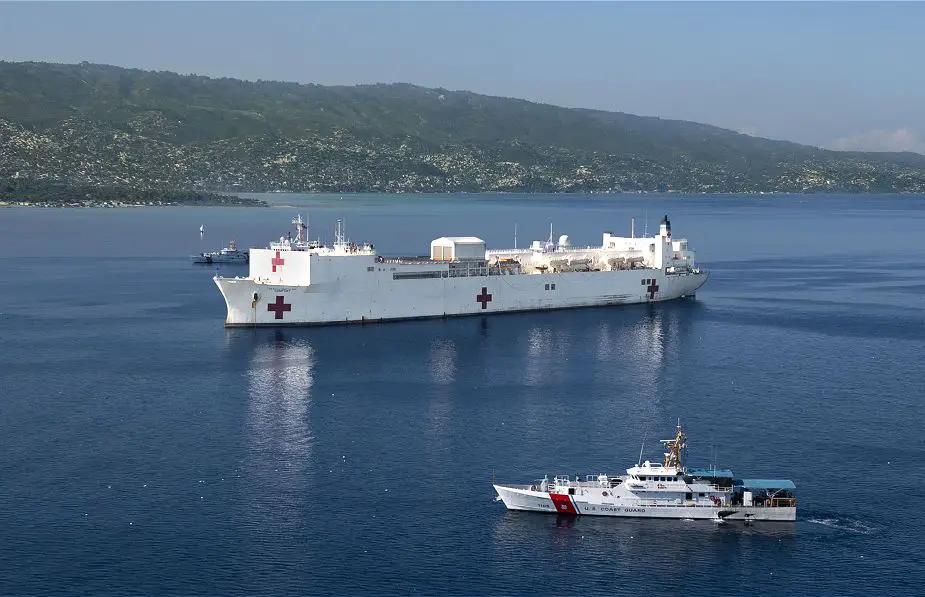 The U.S. Coast Guard Sentinel-class cutters USCGC Margaret Norvell (WPC 1105), front, and USCGC Kathleen Moore (WPC 1109) pass the hospital ship USNS Comfort (T-AH 20) as it is anchored off the coast of Port-Au-Prince, Haiti in preparation for a six-day medical mission, November 4, 2019. (Picture source U.S. Navy)
---
While in Port-au-Prince, U.S. service members and medical professionals will work alongside partner and host nation staff to provide medical assistance in communities with urgent health care needs and demonstrate the commitment to strengthen regional medical capacity.
This marks the sixth Comfort visit to Haiti and the seventh to the region since 2007. The embarked medical teams will provide care aboard Comfort and at one shore-based medical site.
This mission stop is part of U.S. Southern Command's Enduring Promise initiative and reflects the United States' ongoing commitment to friendship, partnership, and solidarity with partner nations in the Caribbean, Central America and South America.

USNS Comfort (T-AH-20) is the third United States Navy ship to bear the name Comfort, and the second Mercy-class hospital ship to join the U.S. Navy's fleet. The USNS prefix identifies Comfort as a non-commissioned ship owned by the U.S. Navy and operationally crewed by civilians from the Military Sealift Command (MSC).

The Mercy-class hospital ship is operated by Military Sealift Command and is designed to provide emergency, on-site care for American combatant forces, and also for use in support of disaster relief and humanitarian operations. Each ship contains 12 fully equipped operating theaters, a 1,000-bed hospital facility, radiological services, medical laboratory, pharmacy, optometry lab, CAT scan and two oxygen-producing plants
---