---
On January 12, 2020, the Chinese Navy has commissioned its first Type 55 destroyer 101 Nanchang. The Type 055 destroyer Renhai-class cruiser is a class of guided missile destroyers being constructed for the PLA (People's Liberation Army) Navy.
---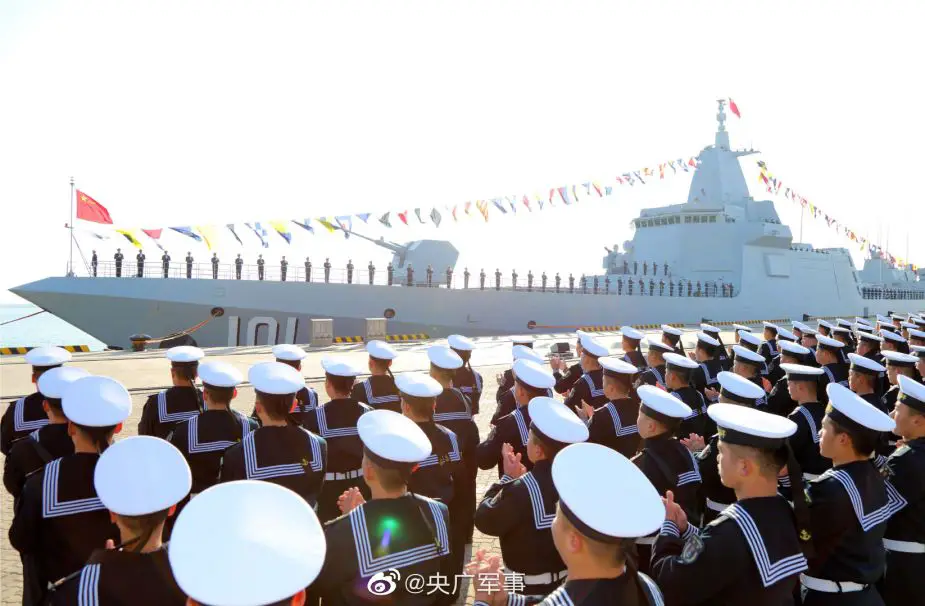 The Chinese Navy Type 55 destroyer 101 Nanchang was commissioned on January 12, 2020. (Picture source Twitter account Loongnaval)
---
The Type 55 missile destroyer began construction in 2014 at the Jiangnan Shipyard in Shanghai and was launched on 28 June 2017. It is one of the largest post-Second World War warships launched in East Asia, and the largest surface combatant launched by China. It was unveiled for the first time to the public in April 2019 during a naval parade to commemorate the 70th anniversary of the founding of the People's Navy.
Type 055 adopts a conventional flared hull with distinctive stealthy features including an enclosed bulbous bow that hides mooring points, anchor chains, and other equipment. With a displacement of more than 10,000 tons, the Type 055 can carry more weapons and equipment than any other Chinese destroyer.
The primary armament of the Type 55 consists of 112 universal vertical launch cells (VLS) with 64 cells forward and 48 cells aft. Type 055 is expected to carry HHQ-9 surface-to-air missiles, YJ-18 anti-ship cruise missiles, CJ-10 land-attack cruise missiles, and missile-launched anti-submarine torpedoes upon entering service.
The main gun of the Type-55 seems to be an improved version of the 130 millimeters single-barreled H/PJ45A-130-1, which could be found on the Type 052D, Ordnance Industry Science Technology said. The gun can shoot 40 shells a minute, and a normal shell can travel 30 kilometers, while a rocket-propelled guided shell could hit targets even farther and more accurately, the report said.
The Type-55 is also equipped with a Type 1130 close-in weapon system that can shoot tens of thousands of bullets per minute to neutralize incoming missiles. It also has a 24-unit HHQ-10 close-range anti-missile system that can effectively intercept supersonic anti-ship missiles.
---
---