---
Florence Parly, Minister of the Armed Forces, welcomes the notification by the General Directorate of Armament (French: DGA) on December 18, 2019, to the society of establishments Merré (Nort-Sur-Erdre, Loire-Atlantique) of a market of eight diving support flagships for the French Navy.
---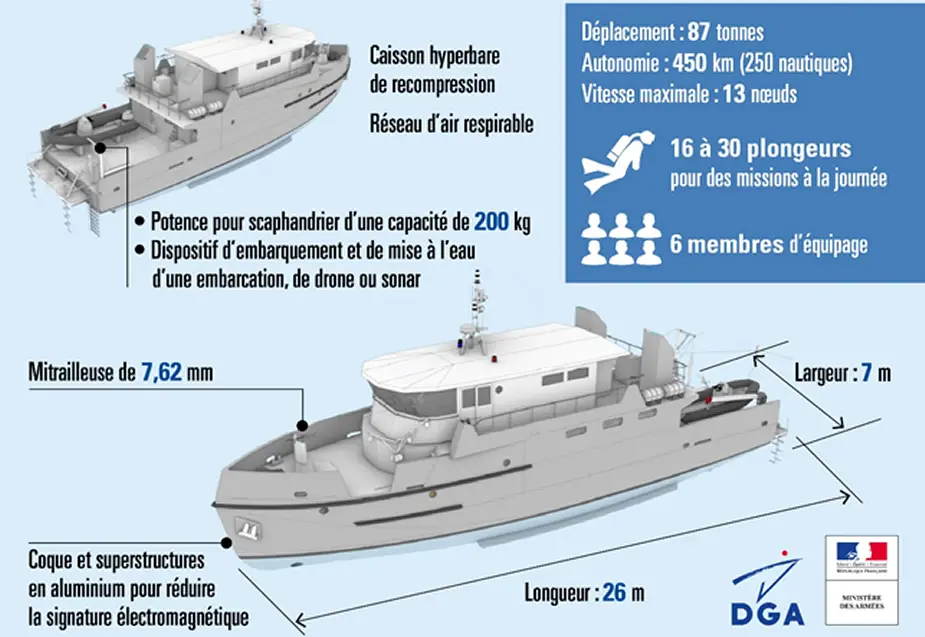 Future Diving Support Flagship (Picture source: French Armed Forces Ministry)
---
They will be used by the Diving School of Saint-Mandrier and the three groups of demining divers, stationed in Toulon, Brest and Cherbourg. They will be used mainly for mine action in shallow depths.
The first Diving Support Flagship will be built on the Saint-Nazaire and Brest de Merré plants. Its reception is scheduled for early 2022. At the end of a three months period of operational use by the Group of Minesweeper Divers Mediterranean in Toulon, launching of the series will be confirmed. It will be followed by the delivery, between the end of 2023 and 2025, of seven other units for the benefit of the three Group of Minesweeper Divers and the Diving School of Saint-Mandrier.
The eight Diving Support Flagship will replace the nine Intervention Vessels for Minesweeper Divers admitted to active service in the 1990s. These Diving Support Flagship will participate in the mine warfare function. Thanks to their reduced size and their shallow draft, the Diving Support Vessels can be deployed in areas of shallow water depth that are not accessible to more substantial resources.
Their main operational missions will concern research and intervention up to sixty meters deep with a team of sixteen divers, research by towed sonar up to a hundred meters deep, support for underwater work sites or expertise and intervention under the hulls of boats.
---