a
World Navy Force News - Germany
Laying down of first 125-class frigate at Blohm + Voss
Attended by numerous guests and representatives from Politics, Navy and Industry, as well as the Blohm + Voss workforce, the laying-down ceremony for the 125-class (F125) frigate took place at building dock 12 at the Hamburg shipyard. The ceremony was organized by the F125 Work Group (ARGE F125), consisting of ThyssenKrupp Marine Systems AG – who commissioned Blohm + Voss Naval GmbH to complete the order – and Friedrich Lürssen Werft GmbH & Co.

Following a three-year design and management phase, and six months after production started on the first section, the festive laying-down of the first hull section marks the continuation of the first 125-class frigate according to schedule.

In implementing the F125 frigate program, the German shipbuilding industry will once again be demonstrating its capacity to innovate and its innate strengths. Designed and equipped for deployment as part of allied defense missions and crisis prevention, as well as supporting humanitarian rescue missions, counter-terrorism and the combating of asymmetric threats, the 125-class frigate is one of the world's most advanced frigates. The 125-class frigate's outstanding mission versatility is matched by an innovative complement model and a systematic, technical implementation of the intensive use capability principle: despite considerably reduced crew numbers, this approach means mission duration can be extended significantly beyond the typical limit for frigates.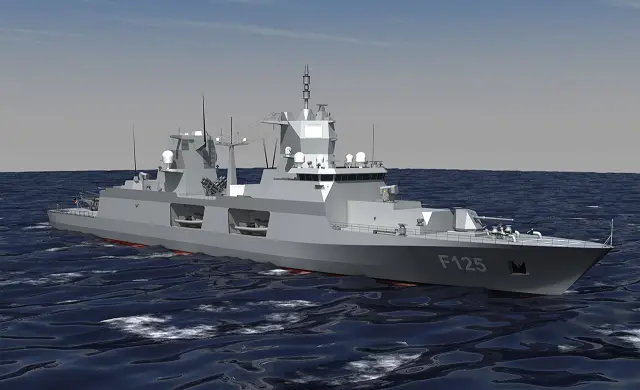 ThyssenKrupp Marine Systems 125-class (F125) frigate
(picture: ARGE F125)
The building contract signed in June 2007 stipulates the production of a total of four 125-class frigates, which are to be delivered by the F125 consortium between spring 2016 and 2018. The German Navy's frigate program has a key role to play not only in ensuring the retention of the innovation-driving expertise possessed by German shipbuilding and the suppliers to this sector, but also in maintaining job security for what is one of Germany's key industries.

Main characteristics:
Length: 149 m
Breadth: 18 m
Max. speed: >26 kn
Displacement: approx. 7000 t
Complement: max. 190 (with a core complement of up to 120)