a
World Navy Force News - USA / Iraq
U.S. Navy Delivers Sixth Swiftships Coastal Patrol Boat to Iraq
The Navy formally delivered the sixth 35-meter patrol boat (P-305) built by Swiftships to the Iraqi navy at the Umm Qasr naval facility in Iraq Nov. 3, after the ship successfully completed reactivation in Bahrain, Oct. 23.

The seamless reactivation enabled delivery to an Iraqi naval base one week ahead of schedule.

"The team has once again succeeded in lending their expertise in boat construction and acquisition to deliver another quality asset to our international partners," said Frank McCarthey, program manager for Support Ships, Boats and Craft. "We look forward to officially transferring custody of P-305 to the Iraqi Navy to aid in their mission of securing their maritime sovereignty."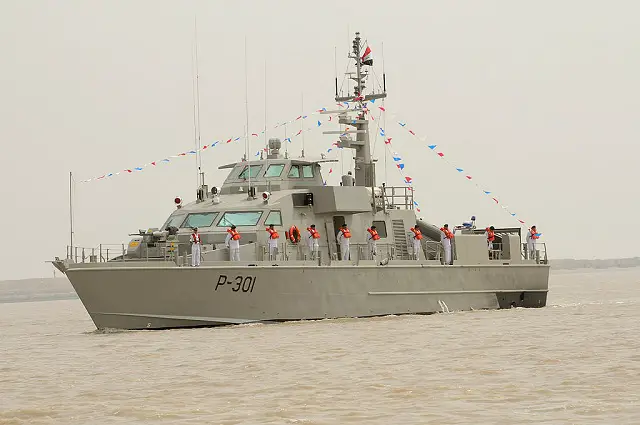 Umm Qasr (P 301), first Swiftships Patrol Boat delivered to Iraqi Navy
(picture: Internet)
The delivery of P-305 follows the successful delivery and transfer of custody of P-304 and P-306 in August this year. The next coastal patrol craft is scheduled to deliver to Iraq in December.

The Support Ships, Boats and Craft Program Office in the U.S Navy's Program Executive Office (PEO), Ships, is managing the acquisition of the patrol boats as a foreign military sales case. There are currently six patrol boats remaining under construction in this case.

The U.S. Navy and Swiftships Shipbuilders, LLC, Morgan City, La., are supporting the Iraqi Navy in the procurement and construction of up to fifteen 35-meter armored patrol boats. The boat is armed with a 30mm gun weapon system, provides for a crew of 25 and is capable of reaching 30 knots.

PEO Ships is currently managing the design and construction of all U.S. Navy destroyers, amphibious ships, special mission and support ships, as well as a wide range of small boats and craft for U.S. agencies and allied nations. Since its creation in November 2002, PEO Ships has delivered more than 40 warships and hundreds of small boats and craft from more than 20 shipyards and boat builders across the United States.
From: navy.mil