a
World Navy Force News - Germany
German Navy decides to retire patrol boats and minehunters ahead of time
The German navy has decided to retire early the Type 143A fast patrol boats (FPBs) Nerz and Dachs and the Type 333 minehunters Kulmbach and Laboe on 31 March 2012.The boats were already taken out of use last spring and their crews made available for other vessels. The boats are over 20 years old, with the Nerz having entered service on 14 July 1983, the Dachs on 22 March 1984, the Laboe on 7 December 1989 and the Kulmbach on 23 May 1990.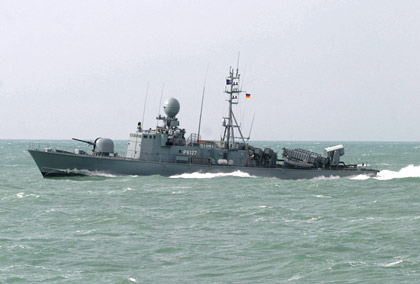 Deutsche Marine Dachs Fast Patrol Boat (Gepard Class)
(picture: Bundeswehr)
The German navy has already been considerably cut since the end of the Cold War. The 70 mine countermeasures vessels and 40 FPBs it had two decades ago have been reduced to 20 and 10, respectively. These boats have been successfully used during NATO and UN missions in the Mediterranean. Personnel freed from the latest reductions will allow existing vessels to have more than one crew, increasing their deployability.