Royal Australian Navy Officially Inducts MH-60R Seahawk Romeo Maritime Helicopter
| | |
| --- | --- |
| | The first two MH-60R Seahawk Romeo maritime combat helicopters were accepted by the Royal Australian Navy at an 'In Service Date' ceremony conducted by NUSQN 725 at Naval Air Station Jacksonville, Florida on the 24th January. The first two of twenty-four airframes on order from Sikorsky and Lockheed Martin, were delivered to the Defence Materiel Organisation (DMO) in early December 2013. |
a
Naval Forces News - Australia
Royal Australian Navy Officially Inducts MH-60R Seahawk Romeo Maritime Helicopter
The first two MH-60R Seahawk Romeo maritime combat helicopters were accepted by the Royal Australian Navy at an 'In Service Date' ceremony conducted by NUSQN 725 at Naval Air Station Jacksonville, Florida on the 24th January. The first two of twenty-four airframes on order from Sikorsky and Lockheed Martin, were delivered to the Defence Materiel Organisation (DMO) in early December 2013.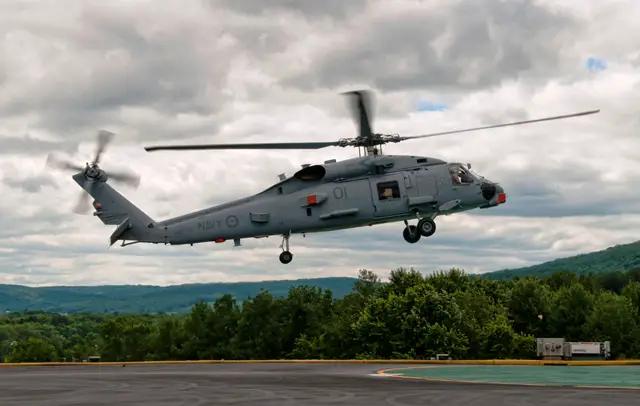 The first MH-60R Seahawk in Royal Australian Navy colors
Picture: Lockheed Martin
Commanding Officer of NUSQN 725, Commander David Frost says the Sea Hawk Romeo represents a big step forward from Navy's current 'Classic' Sea Hawk, which it is replacing.

"The MH-60R is a potent maritime combat helicopter that will primarily be used in the Anti Submarine Warfare Role. The aircraft will also contribute to Navy's anti-surface warfare role by providing an air-to-surface missile capability," said Commander Frost.

"Today is a proud day for our Squadron. Not only are we celebrating a significant milestone for the aircraft, we have a chance to reflect on how much we have achieved over the past year. During 2013, NUSQN 725 officers and sailors have worked hard to master the skills needed to fly and maintain the MH-60R.

"Since acceptance of the first two aircraft in December, we have commenced a graduated flying program, building on the skills, techniques, and tactics that were taught during operational flying training with the United States Navy," said Commander Frost.

"We will continue to consolidate our skills over the next 12 months prior to returning to Australia to commence operations at Naval Air Station Nowra, New South Wales, late in 2014." said Commander Frost.

The delivery of the first two MH-60R as part of AIR 9000 was achieved on budget and six months ahead of schedule. The initial aircraft will be joined by an additional five over the course of 2014.