French Navy ATL 2 MPA versatility proving to be an asset for missions over Iraq
| | |
| --- | --- |
| | Deployed in the Persian Gulf since the beginning of the month, French Navy's Atlantique 2 (ATL2) maritime patrol aircraft (MPA) belonging to naval air squadron 23F are currently deployed to Al Dhafra air base in the United Arab Emirates. On Sept 17, it flew its first reconnaissance mission in Iraqi airspace and on the 19th it provided ISTAR (Intelligence, surveillance, target acquisition, and reconnaissance) support for the first French raid against ISIL and then povided damage assessment reports. |
a
Naval Forces News - France
French Navy ATL 2 MPA versatility proving to be an asset for missions over Iraq
Deployed in the Persian Gulf since the beginning of the month, French Navy's Atlantique 2 (ATL2) maritime patrol aircraft (MPA) belonging to naval air squadron 23F are currently deployed to Al Dhafra air base in the United Arab Emirates. On Sept 17, it flew its first reconnaissance mission in Iraqi airspace and on the 19th it provided ISTAR (Intelligence, surveillance, target acquisition, and reconnaissance) support for the first French raid against ISIL and then povided damage assessment reports.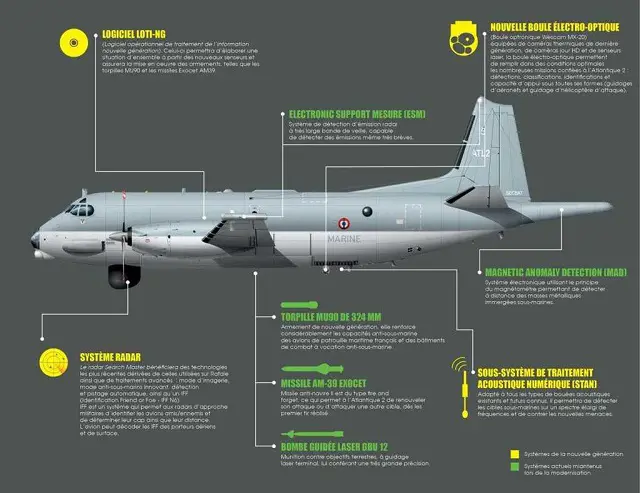 15 French Navy ATL2 are currently being upgraded with new sensors and computers that will significantly improve their ISR ability.
Picture: French Navy
The ATL2 is a multirole aircraft developed for air-sea operations whose initial version dates back to the 1990s. This aircraft is characterized by its broad interoperability with other services and allied forces, and its versatility of use make it an outstanding military asset that is regularly engaged in combat missions as well as public service missions at sea. Developped for aero-maritime superiority missions, anti-submarine and anti-surface warfare, its capabilities may also be used over land, where it operates regularly in support of French ground forces and special forces.

French Navy ATL2 are operating from Al Dhafra air base in the UAE. Picture: French Navy
Its main missions consist in:
» security operations for the benefit of the Strategic Oceanic Force (FOST) for the protection of SSBNs, and benefit of the naval forces;
» air and naval combat operations, especially anti-submarine and anti-ship warfare;
» maritime security operations and security of the national maritime approaches.

The ATL2 is deployed regularly to adapt to the operational needs of the Defense Staff, in support of land and combined air-land operations, particularly in terms of:
» Information gathering;
» Target search and acquisition (convoy or enemy positions);
» Forward air control for aircraft and attack helicopters;
» Direct engagement of targets with GBU 12 bombs.