At Euronaval 2018, the largest naval defense exhibition which opened its doors today near Paris, French minister of the armed forces, Florence Parly, officially launched the aircraft carrier renewal program.
---
By Xavier Vavasseur - Editor-in-Chief
At Euronaval 2018, the largest naval defense exhibition which opened its doors today near Paris, French minister of the armed forces, Florence Parly, officially launched the aircraft carrier renewal program.
---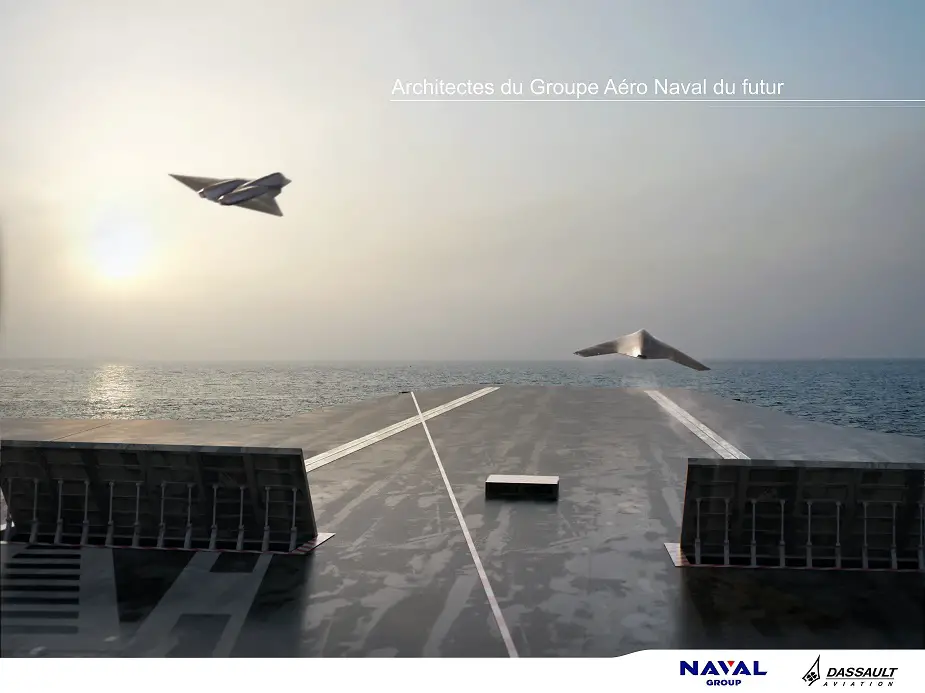 Naval Group / Dassault Aviation image showing the NGF (next generation fighter) and a UCAS being launched from a conceptual aircraft carrier. Note the two bow catapults (design feature never used before aboard French carriers).

---
Here is part of today's speech by Florence Parly (the part focusing on the new aircraft carrier program):
[...] We must also prepare, resolutely, for the future of our carrier group. It is a strategic capability of our national defense and our Marine Nationale. An efficient and effective capacity. An ability that we must maintain and renew.
Today, the Charles de Gaulle finishes up its mid-life upgrade. From the first quarter of 2019, it will be able to sail on an operational mission with it entire air wing. I wanted to salute here all the state and industrial actors who took part in this exceptional project, one of the most important conducted in recent years in our country. Thanks to the work of all, the Charles de Gaulle still has a great future ahead of it, well beyond 2030.
But, the Charles de Gaulle will need a successor. In a world where only "the immediate" counts, it was perhaps more comfortable to postpone this choice until later. It's not really my understanding of the role of policy makers. That's why I'm proud today, here at Le Bourget, at this Euronaval show, to officially launch the renewal program for our aircraft carrier.
This stage one, which is launched today, is the study phase. It's about determining together what we want and how we want it for our future aircraft carrier.
We give ourselves 18 months. 18 months to answer three questions:
The first: what threats will it face? What missions for this future aircraft carrier? From these answers, we will be able to deduce the employment constraints, the needs in terms of combat systems and the necessary articulation with his escort.
The second issue that we will discuss is the characteristics of our future aircraft carrier based on which state of the art technologies will be available in 2030. We launched in cooperation with Germany, the future combat aircraft system, FCAS. The aircraft carrier will have to be able to accommodate it in all its capacities. The mode of propulsion, nuclear or conventional, will be examined. We will have to take into account, too, the future technological breakthroughs. I think, for example, of the revolution represented by electromagnetic catapults.
In answering this question, we will always have to keep an eye on the cooperation we could carry out. Cooperation for the ship itself, perhaps, but also cooperation to allow the new generation aircraft carrier to accommodate aircraft from our European partners. This aircraft carrier could serve until the last decades of the 21st century, we can not afford to design it with a narrow horizon.
The last question we will answer is that of innovation. We must not limit our horizon or our imagination. We should not repeat identically what we already have, but seek the most ingenious, useful and effective capabilities. Let's make this aircraft carrier a true advanced base of our navy and the spear tip of our innovation.
We will have to be realistic but ambitious. And thanks to these in-depth, imaginative and rigorous studies, we will be able to establish the architecture of this future aircraft carrier and lay the foundations for the industrial organization needed to build it on time and at cost.
Through these studies, we will be able to determine, as well, the number of units that France and Europe will eventually need. Let's not put the cart before the horse, now is the time for design, not yet to determine how many ships are needed.
We have 18 months in front of us. 18 exciting and exhilarating months. The studies will be completed in 2020, I will follow them with the greatest attention. And then, we will be able to propose choices to the President of the Republic.[...]
---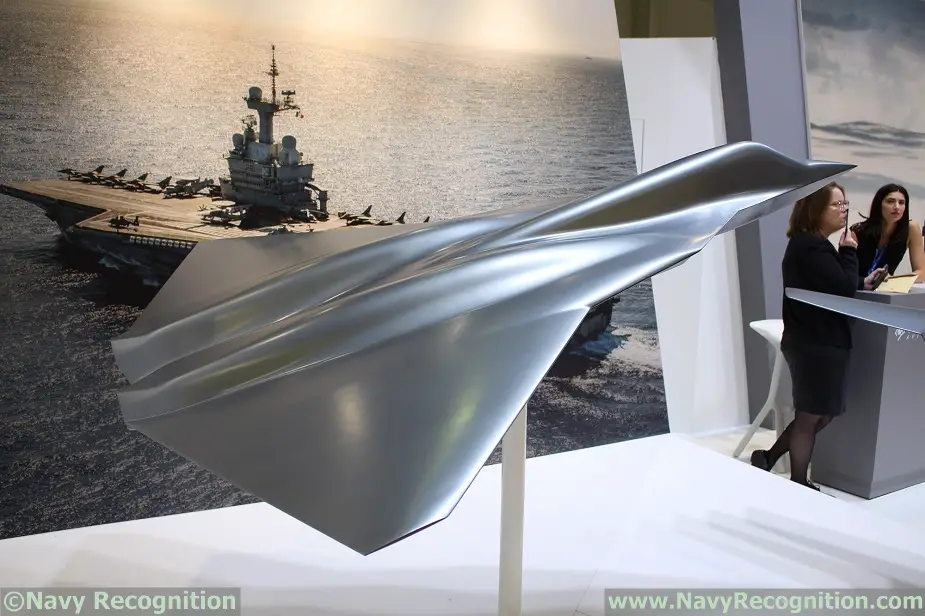 The NGF unveiled by Dassault Aviation at Euronaval 2018

---
Navy Recognition revealed last week that the French defence procurement agency (DGA) and the French Navy (Marine Nationale) started discussions with the United States regarding Electromagnetic Aircraft Launch System (EMALS) for the potential future French aircraft carrier.
You can read more about this at this link.

At Euronaval 2018, Dassault Aviation unveiled the NGF, next generation fighter, a stealthy, tail less next generation fighter currently at early design stage. The project is a collaboration between Dassault Aviation and Airbus. According to today's announcement, this next gen fighter will have to be carrier capable and will fly from Marine Nationale future aircraft carrier.
---