a
Holland class Offshore Patrol Vessel (OPV) - Royal Netherlands Navy
Damen Schelde Naval Shipbuilding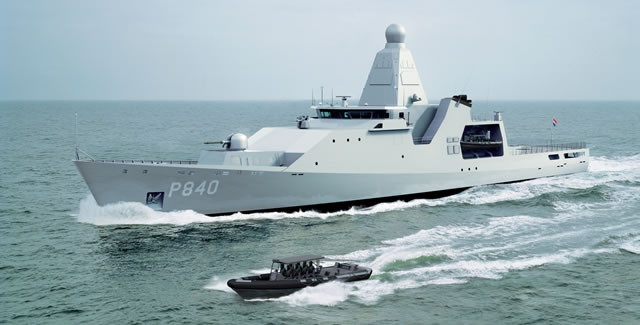 © DAMEN Schelde Naval Shipbuilding
Designed and built by Damen Schelde Naval Shipbuilding for the Royal Netherlands Navy, the Ocean-going Patrol Vessels (or Offshore Patrol Vessel - OPV) are flexible in their deployment and equipped for the surveillance of coastal waters. The ships are able to monitor a wide area (in excess of 100 nautical miles) using a Thales Integrated Sensor and Communication Systems (ISCS) or "IMAST 400".

The mast is revolutionary in its design: for the first time, radar and communications antenna systems have been combined in a single construction. This allows the ship to spot flying and floating objects. The communications equipment in the mast makes it possible to conduct operations all over the world in cooperation with aircraft and other ships.

The command centre is revolutionary in its concept. It is located behind the navigation bridge and is therefore referred to as the 'command bridge aft'. It has windows, providing a direct view of what is happening outside during operations. The navigation bridge has also been configured according to a new concept: it is a one-man bridge. From this location, the ship can be fully operated and protected by 1 person.

The propulsion plant consists of 2 main diesel engines of approx 5400 kW each. Alternatively electric propulsion can be chosen for low speed operations.

To support interception operations, 2 large RHIB's and one NH-90 helicopter are boarded. The stern RHIB will be launched and recovered via a slipway in the stern.
Shiplist
| | | | |
| --- | --- | --- | --- |
| Name | Hull Number | Launched | Commissioned |
| HNLMS Holland | P840 | 02/2010 | 07/2012 |
| HNLMS Zeeland | P841 | 11/2010 | 08/2013 |
| HNLMS Friesland | P842 | 11/2010 | 01/2013 |
| HNLMS Groningen | P843 | 04/2011 | - |
Variants
- None at this time


Technical Data
Back to top
Design
Construction: Modular
Hull material: Steel grade D / DH36
Standards: Naval / Commercial, naval stability
Integrated mast module (IMM).

Missions
» Naval patrol
» Interdiction
» Law enforcement
» Humanitarian relief
» Search and Rescue
» Smuggler interception

Weapons
Guns:
» 1x Oto Melara 76/62 Super Rapid 76mm Main Gun
» 1x Oto Melara Marlin Rapid-Fire 30mm remote weapon stations (RWS)
» 2x Oto Melara Hitrole NT 12.7mm remote weapon stations (RWS)
» 6x mountings for manually operated FN MAG 7.62mm machine guns
Deck Equipment
» Helicopter deck: NH90 helicopter, with grid and helicopter traversing system
» Heli operations: day/night including mission planning system
» Helicopter hangar adequate for level 2 maintenance
» RAS on port side
» Boats: 2x 12 meters RHIB; 1x Fast rescue boat,
» RHIB launching: 1x davit launched, 1 slipway launched via the stern
» Payload: 2x containers and pallets; 1x 10 tonnes crane
Sensors, Electronics,
Thales Integrated Mast 400:
__» SURFSAT-L Satcom terminal
__» Non rotating IFF
__» SEA WATCHER 100 Active phased array radar
__» ICAS Integrated Communications Antenna System
__» SEA MASTER 400 non-rotating phased array Volume Search Radar
__» GATEKEEPER Staring Electro-Optic Ship Security System
Thales TSB 2500 IFF interrogator & combined interrogator transponder
Thales Compact Fire Control System [CFCS]
Communication
Navigation radars
GMDSS
SATCOM
Platform management system
Integrated bridge management system including D-GPS, W-ECDIS, W-AIS
Engines/Propulsion/Power
Propulsion type: CODOE
Diesel engines: 2 x 5400 kW MCR Propulsion type
Electric motors: 2 x 400 kW
Gearbox: 2 x double input/single output
Propellers: 2 x CPP diameter 3.20 m
Active roll-stabilization fins, Bowthruster
Specifications
Back to top
Type

Offshore Patrol Vessel

Crew

Crew accommodation: 50 (+ 40 passengers)


Operators

Royal Netherlands Navy

Performance

Speeds: max 21+ kts
Range: 5000 nm @ 15 kts
Endurance: 21 days at sea

Designer / Builder

Damen Schelde Naval Shipbuilding

Displacement

3,750 tonnes

Propulsion

CODOE

Dimensions

Length: 108.43 m
Beam: 16.00 m
Maximum Draft: 4.55 m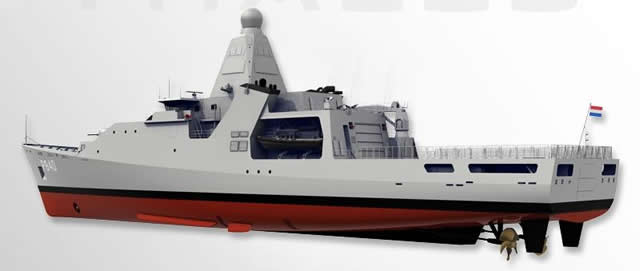 Back to top