a
Naval Defense Industry News - France
French Navy's future Cruise Missile likely to be test launched from FREMM Frigate in late 2014
According to DCNS FREMM Programs Manager, Anne Bianchi, "Discussions are ongoing with the state to organize a test launch of the Naval Cruise Missile, which could take place at the end of 2014. It would mark a milestone in the FREMM program". Ultimately, the new MBDA-made land attack cruise missile will provide the FREMM type frigates with a unique capability for a European surface vessel: Destroying targets located several hundreds of kilometers inland.
File picture: DCNS teams are seen loading a MdCN cruise missile dummy
onboard French Navy FREMM Frigate Aquitaine, first ship of the class
(picture: DCNS)
Meanwhile, DCNS teams continue their work on FREMM Normandie, the third frigate (and the second frigate of the class for the French Navy) built by DCNS at its Lorient shipyard. In December 2013, the French Navy crew loaded a MdCN (Missile de Croisière Naval or naval cruise missile) onboard the Normandie with the support of DCNS teams.

This loading trial was carried out at the request of the French defense procurement agency (DGA), with the assistance of MBDA, who supplies the missile as well as the launcher installation. These trials confirmed the crew's ability to safely load Scalp Naval cruise missiles onboard FREMM frigates.

"Thanks to the involvment of DCNS employees, the FREMMs are becoming benchmark vessels with the most efficient systems available" Anne Bianchi declared.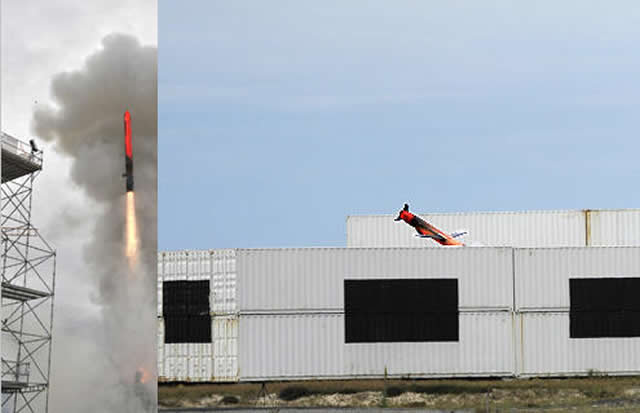 MBDA's MdCN naval cruise missile's third test
(Picture: DGA)
The ability to launch MdCN cruise missiles makes the FREMM types of frigates the first European surface combatants capable of striking targets located deep inland, at ranges of several hundred kilometres. This unique performance is possible thanks to the FREMM's multimission combat management system, which also offers unparalleled capabilities in many situations, particularly in anti-submarine warfare.
About MdCN:
With a range of several hundred kilometers, MBDA's MdCN is intended to strike targets in the depth of enemy territory. It is complementary to the Airborne Scalp cruise missile form which it is derived. Deployed on warships positioned off enemy coasts in international waters, ostensibly (frigates) or discretely (submarines), MdCN is the perfect weapon when the mission involves destruction of high strategic value targets. MdCN will be vertically launched from FREMM frigates using the A70 Sylver vertical launcher. The missile's first full sequence test occurred in July 2012 while the first qualification test successfully took place in
July 2013.
To learn more on Aquitaine class FREMM Frigates,
read our report
on DCNS Lorient shipyard (plus interview with the program manager at the time) and our
FREMM Frigate technical datasheet.