a
Naval Forces News - France
French Navy Looking to Deploy Army MLRS from LHDs for Coastal Fire Support Missions
The French Navy (Marine Nationale) is looking at ways to improve its coastal fire support and land attack capabilities. The information was first revealed by French defense news website
OPEX360
: The French procurement agency (DGA) awarded a contract to Airbus Defence & Space to study the integration of Multiple Launch Rocket System (MLRS) with the French Navy
Mistral class LHDs
.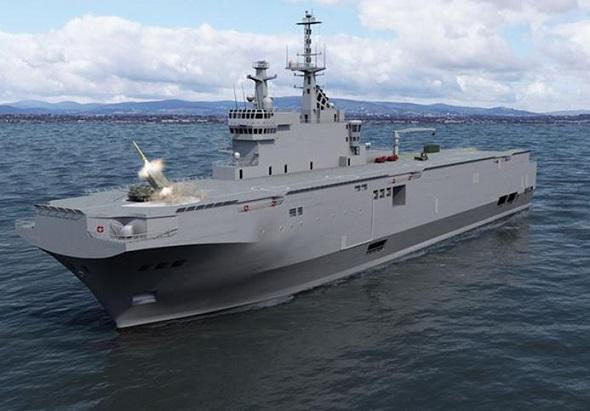 Artist impression: An MLRS launching a rocket from a Mistral class LHD's deck.
Airbus Defence & Space picture via www.opex360.com
The contract award is
public record
and first surfaced in September 2015 but it was awarded one year ago (December 23rd 2014). The value of the contract awarded to Airbus Defence & Space is 333,330 euros ($363,356 USD). The official aim of the contract is "Adapting the LRU system fire control for use on BPC" (
Adaptation de la conduite de tir du système lru à une utilisation sur bpc
).
BPC is an acronym for command and projection vessel (Mistral class) while LRU is an acronym standing for unitary rocket launcher.
In September 2011, a contract for the LRU upgrade was awarded by the French Procurement Agency to a Franco-German consortium including Krauss-Maffei Wegmann, alongside Airbus Defence and Space, Sagem, and Thales to modernize the
LRM (M270) MLRS (Multiple Launch Rocket System)
with new firing system and rockets. In the past, French army had a fleet of 55 M270s, only 13 units are receiving the upgrade to the LRU configuration, with the rest having been withdrawn from service. The LRU uses the new rocket M31 also called GUMLRS (Guided Unitary MLRS). In France, the M31 rocket is manufactured by the U.S. company Lockheed Martin with an engine supplied by the French Company Roxel. Compared with the earlier French MLRS rockets, which were armed with submunitions, the M31 features a single 90 kg HE warhead; includes GPS and inertial navigation system guidance to provide a circular error of probability of less than 10 m; and doubles the missile's range to 70 km.
The LRU (Lance Roquette Unitaire) is based on U.S. made M270 MLRS (Multiple Launch Rocket System)
Contacted by Navy Recognition, a DGA spokesperson confirmed existence of the study but said there was nothing he could add compared to what OPEX360 already reported.
Comment
It appears that the French Navy is more than ever on the lookout for coastal/land attack systems. We
received information last week
that the French Navy found its current 76mm and 100mm guns to be insufficient in both range and lethality following operations in Libya (during which it conducted coastal fire support missions). The U.S. Navy expressed a similar need for smart naval ammunitions relatively recently and as a consequence the U.S. defense industry is currently working on several solutions such as the
Excalibur N5
by Raytheon, the
Standard Guided Projectile (SGP) and Hyper Velocity Projectile (HVP) by BAE Systems
or the
LRLAP by BAE/Lockheed Martin and Navy 5 Inch
. Some of the Russian Navy Buyan-class corvettes are fitted at the stern with a
A-215 Grad-M launcher
for 40x 122mm rockets.