a
Naval Forces News - Russia
Russian Pacific Fleet able to accommodate Project 955 & 885 nuclear-powered submarines
The infrastructural facilities of Russia's Pacific Fleet will allow it to accommodate Project 955 Borei-class nuclear-powered submarines with ballistic missiles and Project 885 Yasen-class nuclear-powered submarines with missiles and torpedoes, Russian Navy Commander-in-Chief Admiral Vladimir Korolyov said.
Russia's first Borey class ballistic missile nuclear submarine, the Yury Dolgoruky
(Picutre: Sevmash Shipyard)
"As for infrastructure, you know that large-scale construction work is currently under way there [in Vilyuchinsk in Russia's Far East]," Korolyov said. "However, infrastructural facilities that have already been put into operation there are sufficient to fully accommodate nuclear-powered submarines in a proper manner," he added.

According to him, Vilyuchinsk is among "the most self-sustained towns that fully meet all modern social requirements."

As a source in Russia's defense and industrial sector told TASS earlier, the Pacific Fleet will operate four Project 955 nuclear-powered submarines next decade. The Pacific Fleet will receive another two submarines that will be built under the improved 955A project in addition to the submarines Alexander Nevsky and Vladimir Monomakh currently operational with it.

The first 885M nuclear-powered submarine is expected to join the Pacific Fleet in 2017-2018.

The Project 955 SSBNs are fourth-generation nuclear-powered submarines designed to destroy strategic targets and accomplish tactical missions, e.g. to sink surface combatants and submarines. They embody the latest shipborne radio electronics advances and solutions improving the hull's hydrodynamics and slashing the acoustic signature. Their main armament is the advanced R-30 Bulava missile system with a range exceeding 8,000 km and a multiple individually targeted re-entry vehicle warhead. The Project 955 submarines carry 16 solid-propellant intercontinental ballistic missiles. They also are equipped with an emergency rescue chamber designed to accommodate the whole crew. A submarine in the class has a length of 170 m, a beam of 13.5 m, an operating depth of 450 m and a crew of 107.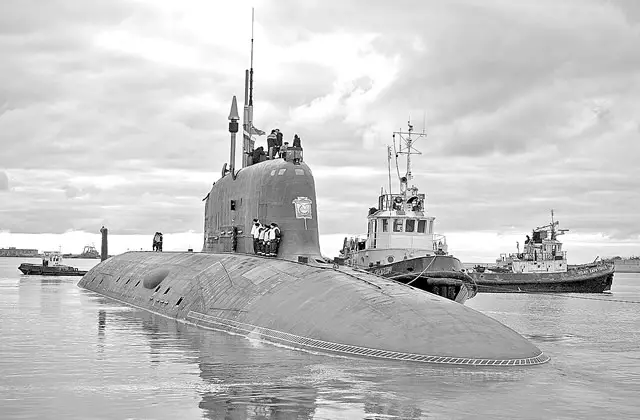 Project 885/Yasen class/Graney/Severodvinsk SSN datasheet
(picture: JSC PO Sevmash)

The fourth-generation Project 885 and 885M nuclear-powered attack submarines armed with torpedoes and missiles are designed for destroying surface ships, submarines and land targets. A submarine in the class has a total displacement of 13,800 tons, dives to 600 m and moves under water at a speed of 30 knots. Its outer hull covers only the bow of the pressure hull to reduce the acoustic signature. The torpedo tubes are installed aft of the central control compartment, rather than in the bow for the first time in the history of Russia's shipbuilding. The submarines of the class carry Oniks (SS-N-26 Strobile) and Kalibr (SS-N-27 Sizzler) cruise missiles and a formidable torpedo/missile system.

© Copyright 2016 TASS. All rights reserved. This material may not be published, broadcast, rewritten or redistributed.