a
Naval Forces News - Russia
Russian Navy Taking Steps to Fulfill its Global Blue Navy Ambitions
The Russian Defense Ministry's board has discussed establishing a new system for the Navy's overall support to enhance its efficiency during long autonomous missions. The Defense Ministry's board has also discussed the construction of modern comprehensive support ships. As Russian Defense Minister Sergei Shoigu said, the Defense Ministry is setting up a new system to provide logistical support for the Navy.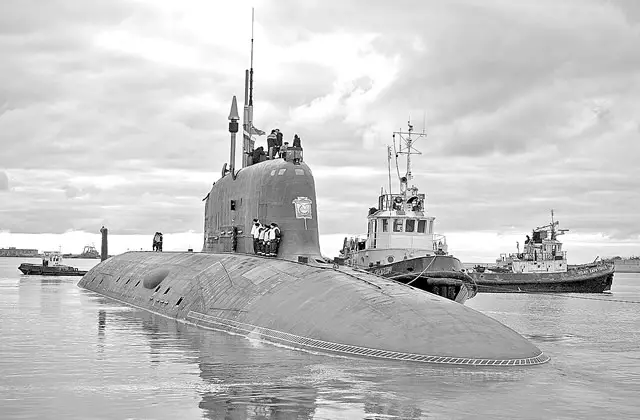 Project 885/Yasen class/Graney/Severodvinsk SSN datasheet
(picture: JSC PO Sevmash)

"The expansion of naval presence induces us to ensure the fleets' capacity to operate autonomously in strategically important areas for a long time," the defense minister said.

The dispersion of fleets is a problem faced by the Russian Defense Ministry. Russia is currently developing a promising logistics system and taking comprehensive measures to improve interaction at the interdepartmental level to provide overall support for naval groupings that will accomplish strategical tasks, including missions far away from their bases.

"There are certain difficulties relating to the Navy's heterogeneous composition and the location of its fleets at a considerable distance from each other. The organizational structure of military bodies responsible for logistics has been analyzed and proposals have been prepared to improve it," Shoigu said.

Under the Navy development program, the Russian Defense Ministry is expected to purchase ten Project 955 Borei-class nuclear-powered submarines armed with ballistic missiles and ten Project 885 Yasen-class nuclear-powered submarines with missiles and torpedoes.

A total of 20 conventional submarines will be made operational before 2020, including six Project 636.3 Varshavyanka-class submarines.

The Navy development program also envisages the construction of 14 Project 22350 and six Project 11356 frigates, as well as 35 corvettes, including 18 Project 20380 and 20385 vessels.

The Russian Defense Ministry will also receive six Project 21630 Buyan-class small gunnery ships and six Project 11711 large amphibious assault ships.

The Navy development program will also focus on setting up a renewed auxiliary fleet and the entire comprehensive Navy support system.

© Copyright 2015 TASS. All rights reserved. This material may not be published, broadcast, rewritten or redistributed.