a
Focus - Naval Technology
Vladivostok, Russian Navy future Mistral class LHD, specificities and characteristics
By Xavier Vavasseur

STX France shipyard in Saint Nazaire is currently assembling the bow and central sections of Vladivostok, the first Mistral class LHD amphibious vessel ordered by Russia. First cut of steel for this head unit took place at the Russia's Baltic Shipyard United Shipbuilding Corporation (OCK) in St. Petersburg in August 2012. Construction of the warship began last year at the STX shipyard in St. Nazaire, after Russia signed a 1.2-billion euro deal with DCNS for two French-built Mistral vessels, which was signed in June 2011. The official keel laying ceremony took place at STX Shipyard in France in February 2013.

Based on the same Mistral class design as their French Navy sisterships, the Russian Navy amphibious vessels Vladivostok and Sevastopol will have their own specific differences in the following area: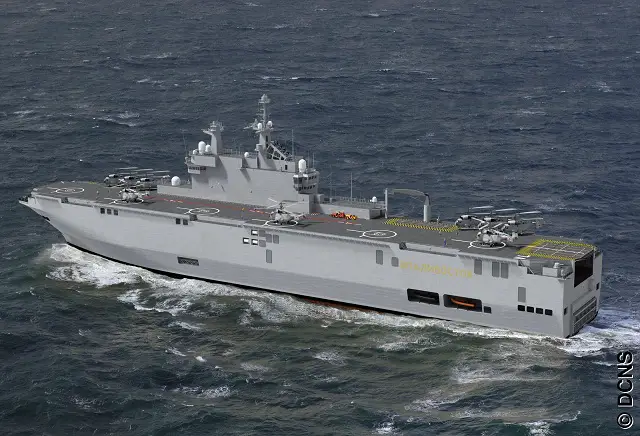 DCNS is supplying two BPC-type projection and command vessels to Russia under a contract that came into effect at the end of 2011.
Air wing:
Following a
requirement from the Russian Navy
, the air wing of the Russian landing ships is increased compared to the French Navy Mistrals. The
Vladivostok
is designed to accommodate 30 Ka-52K Alligator and Ka-29 helicopters instead of the originally planned 16 helicopters. This will increase the landing and overall power projection capacities of the ships.
Update 21/03/2013
Following further research on the air wings, it appears these will be air wings comprising carrier-based and land-based elements to ensure fast rotation of the helicopters for repairs or replacement due to combat losses.This means the helicopter complement onboard Russian Navy Mistrals will be the same as the French Navy Mistrals: 16 (likely 8 Ka-52K and 8 Ka-29 Helicopters).

The Ka-52K is a navalised version of the ground-based Ka-52 Alligator combat helicopter operated by the Russian Air Force. It features foldable rotor and wings, new radar system and anti-ship missiles.
(Picture: Vitaly Kuzmin)
Ka-52K Alligator (NATO reporting name: Hokum B)
The Ka-52K is a navalized version of the land-based Ka-52 Alligator combat helicopter operated by the Russian Air Force. The special "navalized" version of the helicopter will be specially equipped to conduct attack missions against targets at sea and on the ground which requires different sensors and armaments than those used on the basic Ka-52 helicopter.
The major difference will be the radar: A modified version of the Mig-35 fighter's Zhuk-A phased array radar is currently being developed to fit into the Ka-52K nose cone. This will be a major step forward compared to the base Ka-52 helicopter as the AESA radar Zhuk-A is among the most advanced radars to date in Russia. The radar is stated to provide a detection range of 130 km for a head on target with up to 30 targets tracked and 6 of those engaged at any one time.
Ka-52K will also feature folding rotor blades, folding wings and anti-corrosion treatment to fuselage and systems which are a necessity for any helicopter set to operate from a ship.
Another significant improvement for the Ka-52K over the Ka-52 is the reported possibility to launch Kh-31 (AS-17 'Krypton') and Kh-35 (AS-20 'Kayak') anti-ship missiles.

Link to Ka-52 Alligator attack helicopter datasheet

The Ka-29 is designed for assault and transport missions
(Picture: Vitaly Kuzmin)
Ka-29 (NATO reporting name: Helix B)
Ka-29 Helix, based on the Ka-27 ship-borne helicopter, was originally designed for the Soviet navy as a dedicated assault and transport helicopter. In transport configuration the Ka-29 can carry 16 equipped soldiers or 10 wounded including four stretchers (medical supplies and equipment included). 2000kg cargo may be carried internally or 4000kg externally. A winch may also be installed. Ka-29 helicopters can also provide fire support for the landing party. In a combat configuration the helicopter is fitted with a 9A622 Gatling type 7.62-mm machine gun, eight 9K114 Shturm (AT-6 Spiral) or 9M120 Ataka-V (AT-9 Spiral-2) anti-tank missiles, up to four 57-mm or 80-mm rockets pods and two GS-23L twin-barrel 23-mm gun pod.

As for Ka-52K, the Ka-29 rotors and wings may be folded for storage inside the Mistral class vessel's hangar.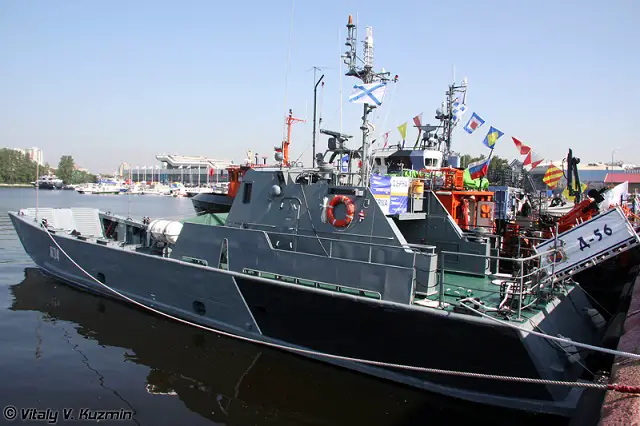 Project 11770 Serna class landing craft
(Picture: Vitaly Kuzmin)

CNIM's L-CAT / EDA-R landing catamaran pictured here as used by the French Navy during Bold Alligator amphibious exercise
(Picture: US Navy)
Landing crafts:
If the Russian Navy selects Russian made landing craft for their Mistrals, they will likely be project 11770 Serna or project 21280 Dyugon, those being the latest landing craft projects in Russia.
Project 11770 Serna has a displacement of 99.7 tons and maximum speed of 30 knots. It can transport one main battle tank or two armored personnel carriers or 92 soldiers.
The larger Dyugon (Project 21280) has a displacement of 280 tons and maximum speed of 35 knots. Dyugon can carry three main battle tanks or five armored personnel carriers. Dyugon may have to be slightly modified as its mast appears to be too tall to be able to fit inside a Mistral class vessel's well-deck.

However, according to some reports, Russian Navy may be procuring French made L-CAT landing catamaran instead. Designed to land troops and military vehicles from an over-the-horizon amphibious vessel (30 nautical miles/55 km), the L-CAT has a payload of 80 tons with a maximum speed of 30 knots. Its doors at the front and rear simplify the loading and unloading of vehicles.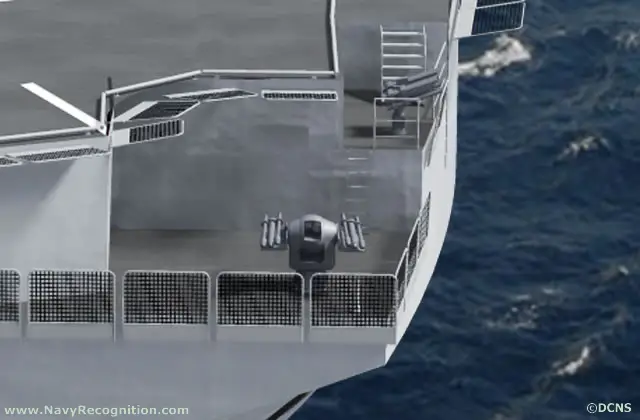 Gibka 3M-47 naval turret mount, air defense missile system
(Image renderring: DCNS)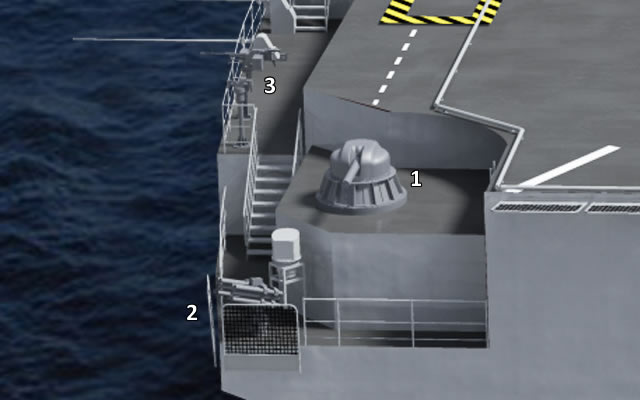 At the bow, starboard side of Vladivostok, the following weapon systems are expected to be fitted:
1- AK-630M CIWS
2- DP-65, 55 mm antisaboteur grenade launcher
3- 14,5mm KPVT heavy machine gun on an MTPU mount
(Image renderring: DCNS)
Weapons:
Vladivostok
type Mistrals are set to receive a fully Russian weapons fit.
Self protection against air threats will be fulfilled by two
Gibka 3M-47 air defense missile system
: One located the bow, port side and another system located at the stern, starboard side.
Two
AK-630M CIWS
are set to be fitted (bow, starboard side and stern, port side) for close range protection against air and surface threats.
Some 14,5mm heavy machine guns are planned to be installed on
Vladivostok
for protection against close range asymmetrical threats.
Four
DP-65 antisaboteur grenade launchers
will be fitted on each side of the vessels. It is designed for protection of ships against attacks of underwater combat swimmers at external roadstead open anchor stops and bases. The system ensures single-shot and salvo fire with rocket grenades RG-55M and RGS-55.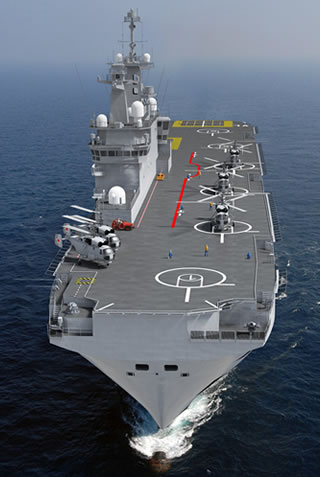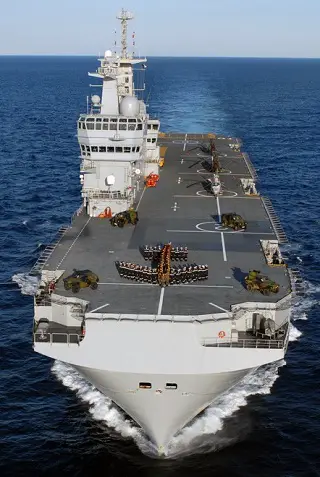 Russian Navy's future Vladivostok LHD compared with French Navy's Tonnerre LHD
(Picture left: DCNS; picture right: French Navy)
Other notable modifications include increased hangar height to accomodate the Kamov helicopters, modified bridge structure, reinforced hull to operate in Arctic zones, specific warming devices on deck, a door that completly closes the well-deck (on French Mistrals, the well-deck door doesn't reach the top of the well-deck, leaving an opening) and several russian specific systems (note the several radomes placed at different locations in the image above).
With a length of 199 metres, a displacement of 22,000 tonnes and a speed in excess of 18 knots, the Mistral class LHD offers a global projection capability for troops and materiel, including heavy helicopters and landing craft, as well as ample capacity as a hospital or evacuation vessel for large- scale humanitarian missions. The design also features electric propulsion using azimuth pods and high-level automation compatible with a complement of just 170, while a high-performance communications suite makes the type ideal for the naval force command vessel role.
The first two ships of this type, Mistral and Tonnerre, were built by DCNS and STX France and delivered to the French Navy in 2006 and 2007 respectively. France's third LHD of the type, Dixmude, ordered by the French defence procurement agency in 2009, was delivered by DCNS and STX France on 3 January 2012, three months ahead of the contract schedule.
Check out our technical datasheet to learn more about the Mistral class