a
Naval Defense Industry News - France, UK
France UK to Launch Concept Phase & Feasibility Studies for Future Anti-Ship Missile in March 2017
MBDA will start working on its next gen anti-ship missile, currently known as the Future Cruise and Anti-Ship Weapon (FCASW) / in French: Future Missile Anti-Navire Future Missile de Croisiere (FMAN/FMC), in March 2017. The announcement was made December 16th in a joint statement by UK's Minister for Defence Procurement Harriett Baldwin and Laurent Collet-Billon, the head of France's defence procurement agency (DGA).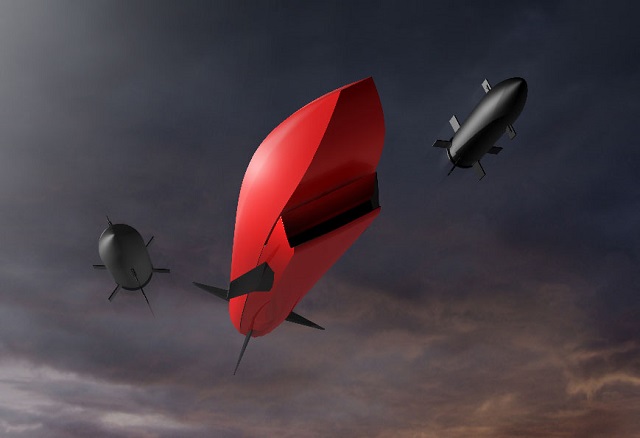 FCASW is likely to share some commonality with the CVS401 Perseus (pictured here), a concept missile unveiled by MBDA at the 2011 Paris Air Show. MBDA Picture
Délégué Général pour l'Armement, Laurent Collet-Billon said:
"I sincerely thank the French and British teams for the huge amount of work that has led to this achievement. Several major milestones within our equipment cooperation await us in 2017 and we will work just as hard to pass them. I am specifically thinking about the FC/ASW programme conception phase contract award in March 2017 and the launch of the FCAS programme demonstration phase at the end of the year."



The UK and France intend to jointly develop several new missiles, one of them being the FCASW. FCASW should eventually replace both anti-ship missiles used by the Royal Navy and Marine Nationale (Harpoon and Exocet respectively) as well as air-launched cruise missiles used by both countries (the Storm Shadow / Scalp). In service date is expected to be around 2030.



Contacted by Navy Recognition, an MBDA source said the studies would likely take place at MBDA France in Le Plessis-Robinson as well as at MBDA UK in Stevenage.



While the French Navy's current anti-ship missile, the Exocet MM40 Blk III will be maintained and deployed well into the 2030ies (same goes for the Storm Shadow / Scalp of the RAF and French Air Force & Navy), the Royal Navy has more urgent needs: It was made public last week that the Royal Navy will retire its Harpoon Block 1C anti-ship missiles in 2018.
FCASW is likely to share some commonality with the CVS401 Perseus, a concept missile unveiled by MBDA at the 2011 Paris Air Show.
According to MBDA, the CVS401 Perseus is capable of multiple operating modes against a wide land and maritime target set whilst capable of defeating advanced enemy defence systems. it is designed as a tactical weapon system operated through and advanced Operations & Mission Planning system at the crossroads of naval, land and air warfare.
The advanced supersonic, agile and stealthy airframe is powered by a revolutionary ramjet motor built around a high compact Continuous Detonation Wave Engine making it an unrivalled penetrator of defence, and a perfect weapon against fast relocatable Targets when combined with the advanced dual mode sensor package.
The lethal package includes two guided effectors ejected from the payload module and a third warhead remaining on-board for a dispersed lethal effect on multi-elements targets such as large warship or a ground based missile system.
The new modular composite structure allows reductions to the overall mass and fosters opportunities for capability enhancement through life, simplifying maintenance operations through the whole life cycle and supporting and developing a family of products.