a
Naval Forces News - Russia
Project 21980 Grachonok-class anti-sabotage boat Joins Russian Naval Force in the Mediterranean
The Project 21980 Grachonok-class Yunarmeyets Kryma anticommando boat of the Black Sea Fleet has joined the Russian Navy's standing naval force in the Mediterranean, according to the fleet's press office.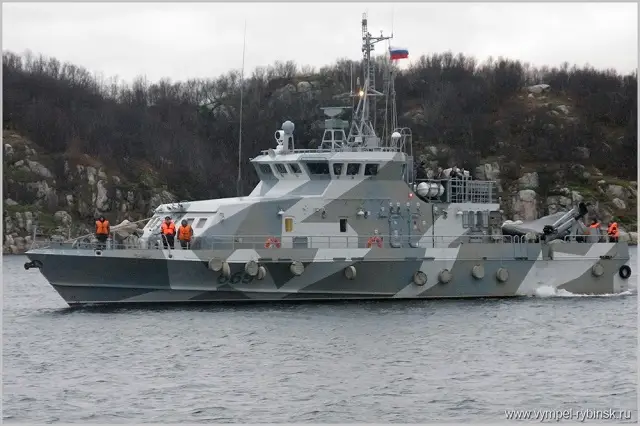 One of the two new Project 21980 anti-sabotage boats for the Russian Navy Northern Fleet. File Picture: Vympel
"Plans provide for the boat to guard friendly ships on unprotected roadsteads and provide security for the bases used by the Russian Navy's Mediterranean squadron," the press office said.

They also stressed that the boat of the class had passed the Black Sea straits and ventured for the high seas for the first time, thus proving her seaworthiness.

The Yunarmeyets Kryma is a special boat built by the Zelenodolsk Shipyard in 2014. The Vympel Design Bureau in Nizhny Novgorod had developed the class to guard water areas and fight enemy naval commandos in the waters of naval bases and on close approaches to them. The boats in the class carry heavy machineguns, antidiver grenade launchers and man-portable air defense systems. Their radio electronics allow searching for underwater objects - both static and moving - while their diving system allows several divers to dive simultaneously.

© Copyright 2017 TASS. All rights reserved. This material may not be published, broadcast, rewritten or redistributed.