a
Naval Forces News - Russia
Frigate Admiral Makarov hits cruise missile drones with Shtil SAM system in the Baltic Sea
During a Baltic Fleet's exercise, the Project 11356 frigate Admiral Makarov, which is conducting the final stage of the official tests in the Baltic Sea, hit cruise missile drones with the Shtil SAM system, said Baltic Fleet spokesman Roman Martov.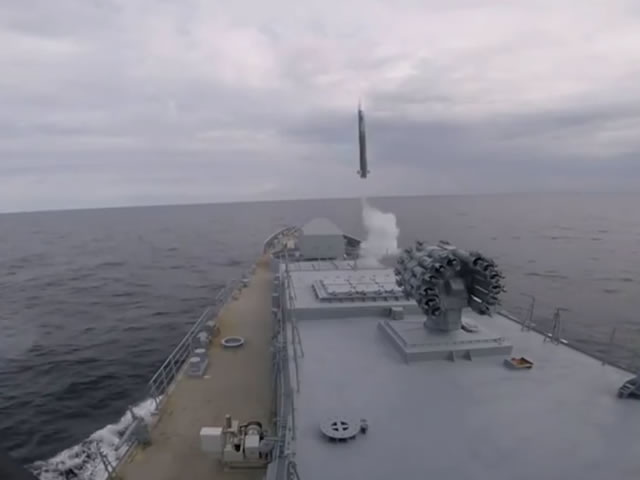 Russian Navy Admiral Makarov frigate launching a Shtil surface to air missile.
"In the course of bilateral exercises held at a Baltic Fleet's naval proving ground, small missile ships Geyzer and Liven launched missile drones to refine the air defense systems installed on board the missile ships and frigate Admiral Makarov," Martov said.

Admiral Makarov was the first to employ its air defense system, Martov noted. The air defense crews of the newest ship were able to detect and destroy air targets with the Shtil SAM system within the prescribed period. At the second stage, the air raid of a simulated enemy was repelled by the Baltic Naval Base's missile ships and boats using their anti-air warfare capability. More than ten ships and vessels took part in the maneuvers in the Baltic Sea.
The Admiral Makarov frigate is the third in a series of Project 11356 ships being built at the Yantar Baltic Shipyard on order from the Russian Ministry of Defense. The ship went to sea on April 14 to conduct the final stage of the official tests that began last October and took place in the Baltic and Barents Seas. During the sorties and two inter-fleet passages, the ship showed good seaworthiness and smooth operation of all systems, but there were problems with firing of the Shtil-1 SAM system, which showed unstable results. In the first quarter of 2017, this problem was eliminated by its manufacturers in conjunction with the ship's commissioning team. Already during the first sortie into the sea on April 19, the Admiral Makarov's combat crew successfully hit a real air target with the Shtil SAM system.
The frigate Admiral Makarov was laid down by the Yantar Shipyard on February 29, 2012 and floated out on September 2, 2015. The first two Project 11356 frigates Admiral Grigorovich and Admiral Essen were delivered to the customer on March 11, 2016 and June 7, 2016, respectively.

The Project 11356 frigate is designed to attack the enemy's surface ships and submarines at short and long ranges and fight aerial threats both independently and within a formation.

The Project 11356 frigate is armed with the A-190 100mm gun, air defense missile systems, including the Kalibr (SS-N-27 Sizzler) and Shtil systems, and torpedo tubes.
The ship can carry a Kamov Ka-27 (Helix-A) helicopter or its versions.
The Project 11356 frigate has a displacement of 3,620 tons, a length of 124.8 meters, a full speed of 30 knots and endurance of 4,850 miles.


© Copyright 2017 TASS. All rights reserved. This material may not be published, broadcast, rewritten or redistributed.