---
The PASEO XLR (eXtra Long Range) sighting system built by Safran Electronics & Defense has been chosen by Naval Group for France's new medium frigates (FTI). Five of these 4,000 ton ships will be delivered starting in 2023.
---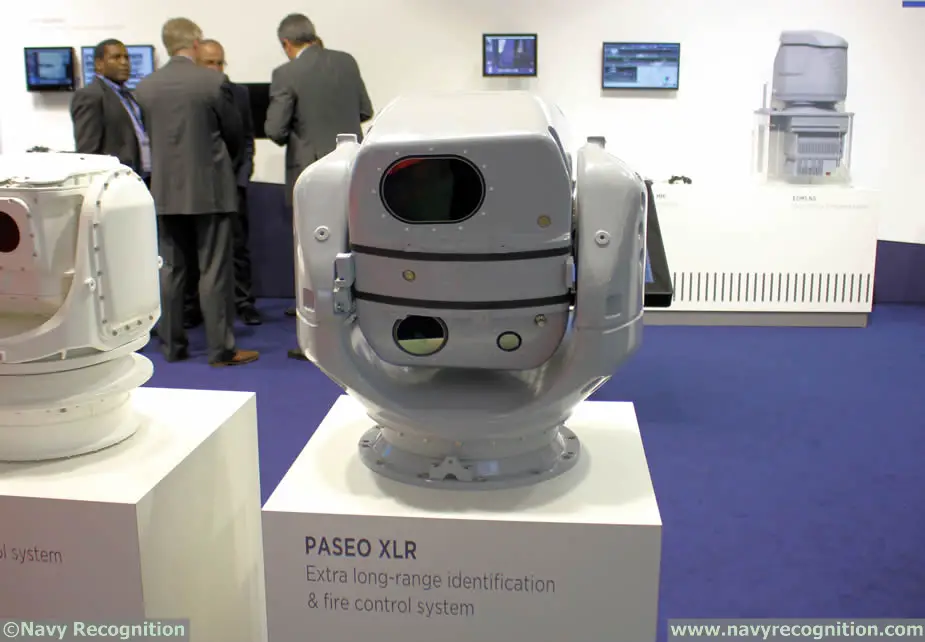 PASEO XLR at Euronaval 2016

---
Safran's PASEO XLR system gives the French navy very-long-range identification capability. It is especially valuable in a context of asymmetric combat, where front-line ships are called on to operate near coastlines, and may engage small vessels showing suspicious behavior. The PASEO XLR system allows ships to determine these vessels' intentions at a range enabling the frigate to activate its self-defense system.

Commenting on this latest contract, Pierre-Olivier Nougues, Vice President Sales & Marketing, Naval Key Accounts, at Safran Electronics & Defense, said, "We are very proud to have won this contract from Naval Group on behalf of the French navy. These new frigates will be fitted with our highest-performance electro-optical sighting systems."

As the latest member of Safran Electronics & Defense's family of shipborne sighting systems, the PASEO XLR joins the Vigy Observer/Engage and the PASEO NS. The PASEO XLR features a stabilized turret from the DALAS NG (deck-landing aid device for the Charles de Gaulle aircraft carrier), developed from 2014 to 2017 for Naval Group and French defense procurement agency DGA, and featuring cameras with very high magnification. It also includes an HDTV (high-definition TV) channel, including a powerful telescope (spotter) and a very-long-range Satis XLR infrared imager, as well as an eyesafe laser rangefinder. A SWIR (shortwave infrared) channel is offered on option, to enhance performance under foggy conditions.
---
Artist impression of the FTI mid-size frigate. Naval Group image.

---
About the FTI
The French Defence Ministry announced the attribution to DCNS (now Naval Group) of a contract for the development and construction of five FTI (Frégate de Taille Intermédiaire or mid-size frigate) surface combatant intended for the French Navy in April this year. The first of the five frigates from this DGA-managed programme should be delivered in 2023 with an entry into active duty in 2025.
The FTI will have a displacement of about 4200 tonnes with a crew of 125 sailors. It will be capable of anti-submarine warfare, anti-air warfare, anti-surface warfare as well as the support of special forces missions.
The prime contractor is Naval Group while Thales is set to supply a number of brand new, next-gen systems:
- The CAPTAS-4 Compact sonar
- The SEA FIRE radar
- Aquilon integrated naval communication system
- The SENTINEL electronic warfare system
Safran Electronics & Defense will supply a new electro-optical FCS, the PASEO XLR.
Provisional configuration (to be confirmed):
76mm main gun
2x Narhwal 20mm remote guns
8x Exocet MM40 Blk III anti-ship missiles
2x Sylver A50 launchers for 16x Aster 30 missiles
Space for 2x extra Sylver A70 launchers
MU90 torpedoes
Hangar for one NH90 helicopter and one UAV
Fitted for 4x Sylena Mk2 decoy launchers but with 2x of them.
---