---
Russian Marines and paratroopers operating in the Arctic force of the Northern fleet trained on the Alexander Otrakovsky and the Kondopoga big amphibious assault ships to land on unequipped coast and destroy an adversary subversion group, the fleet said.
---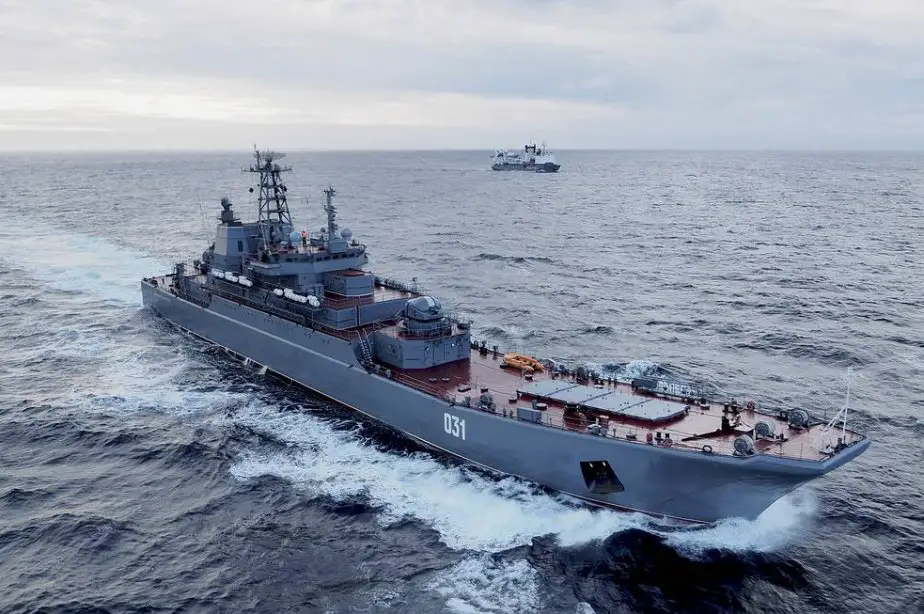 Alexander Otrakovsky large amphibious assault ship (Picture source: TASS)
---
"The exercise was held near Bolshevik Island of Severnaya Zemlya Archipelago under the supervision of Kola flotilla commander Vice Admiral Oleg Golubev. It engaged warships and personnel of the Arctic force of the Northern fleet on BTR-82A. Three warships were engaged, as well as two Ka-27 helicopters, ten units of armour, two boats and over 500 men," it said.
Counter-subversion combat swimmers of the Kola flotilla were the first to land. They provided guidance for an artillery strike by the Vice Admiral Kulakov big antisubmarine warfare ship at fortified adversary objects.
An advance marine group then approached the coast on speedboats. Ka-27 helicopters landed an assault force. The marines seized a stronghold on the coast and ensured the approach of big landing ships with the main force.
The Alexander Otrakovsky and the Kondopoga for the first time trained approaching the coast of Bolshevik Island and landing combat hardware. BTR-82A trained manoeuvrable combat, pursuit, blocking and destroying the adversary. Marines and paratroopers also trained fire from small arms and grenade launchers.
After the mission, the hardware was loaded on landing ships and the Arctic force of the Northern fleet sailed towards Uedinenie Island in the Kara Sea.
---
© Copyright 2019 TASS. All rights reserved. This material may not be published, broadcast, rewritten or redistributed.
---