---
According to information published by the Indian Ministry of Defense on August 6, 2021, keels of the first warship of the Anti-Submarine Warfare Shallow Water Craft (ASWSWC) project and the third warship of Survey Vessel Large (SVL) project for the Indian Navy were laid virtually by VAdm SN Ghormade, Vice Chief of Naval Staff.
Follow Navy Recognition on Google News at this link
---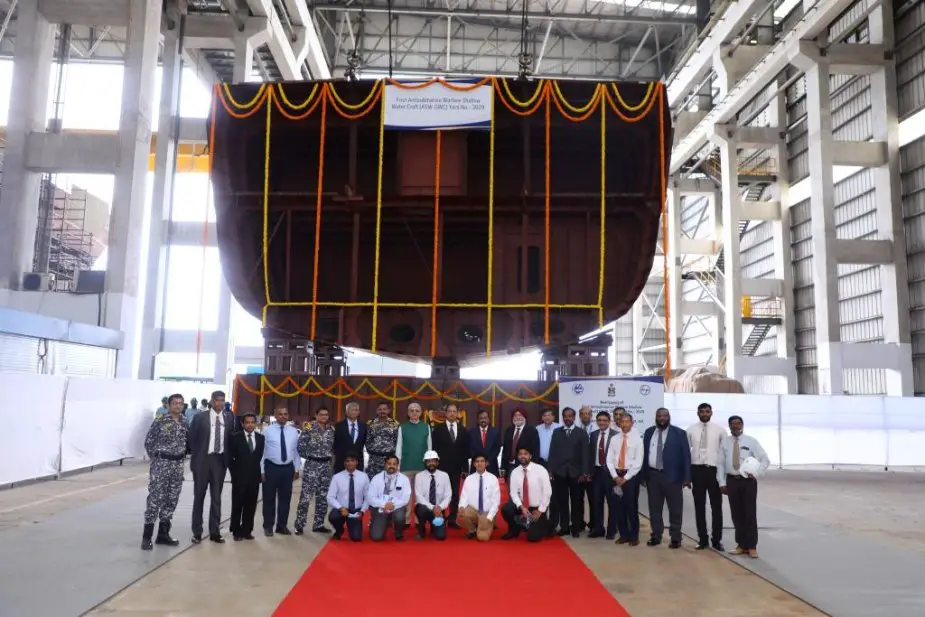 Future Anti Submarine Warfare Shallow Water Craft (Picture source: Twitter account of Indian Navy)
---
The ships are being built by GRSE as part of the indigenous shipbuilding program for construction of eight ASWSWC and four SVL for the Indian Navy. The ships are partly being built under a unique Public Private Partnership model by GRSE at L&T Shipyard, Kattupalli. The Keel Laying is a major milestone activity in the shipbuilding process and indicates the amalgamation of various blocks towards construction of a ship.
The Chief Guest said that the ASW Shallow Water Craft equipped with state-of-the-art underwater sensors and weapons will boost the Navy's ASW capability. The SVL ships capable of full-scale coastal survey, deep-water Hydrographic survey and determination of navigational channels/ routes will also be fitted with state of art equipment.
These Anti-Submarine Warfare Shallow Water Crafts are designed for a deep displacement of 750 tons, speed of 25 knots and complement of 57 and capable of full-scale sub surface surveillance of coastal waters, SAU and Coordinated ASW operations with Aircraft. In addition, the vessels shall have the capability to interdict/ destroy sub surface targets in coastal waters. These can also be deployed for Search and Rescue by day and night in coastal areas. In their secondary role, these will be capable to prosecute intruding aircraft, and lay mines in the sea bed.
The vessels are equipped with highly advanced state-of-the-art integrated platform management systems including Propulsion Machinery, Auxiliary Machinery, Power Generation and Distribution Machinery and Damage Control Machinery, etc.
---