---
According to a press release published by U.S. Department of Defense on March 19, 2021, Bell-Boeing Joint Project Office, Amarillo, Texas, is awarded an $182,176,913 modification to previously awarded, fixed-price incentive (firm target), cost-plus-fixed-fee contract N00019-17-C-0015 for the production and delivery of two CV-22B variation in quantity aircraft for the Air Force.
Follow Navy Recognition on Google News at this link
---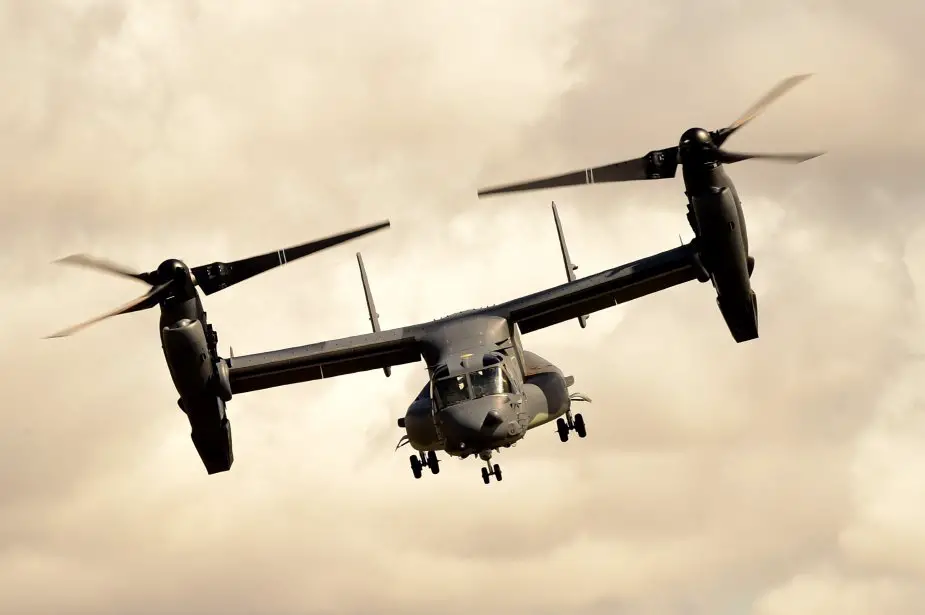 A CV-22B Osprey assigned to the USAF 7th Special Operations Squadron performs an aerial display of its capabilities during the Royal International Air Tattoo at Royal Air Force Fairford, England (Picture source: U.S. Air Force)
---
Additionally, this modification provides for post-production repairs in support of the MV-22B Common Configuration Readiness and Modernization Program for the Navy. Work will be performed in Fort Worth, Texas (30%); Ridley Park, Pennsylvania (15%); Amarillo, Texas (13%); Red Oak, Texas (3%); East Aurora, New York (3%); Park City, Utah (2%); McKinney, Texas (1%); Endicott, New York (1%); various locations within the continental U.S. (28%); and various locations outside the continental U.S. (4%), and is expected to be completed in March 2025.
Fiscal 2021 aircraft procurement (Air Force) funds in the amount of $168,676,913; and fiscal 2021 aircraft procurement (Navy) funds in the amount of $13,500,000 will be obligated at the time of award, none of which will expire at the end of the current fiscal year. The Naval Air Systems Command, Patuxent River, Maryland, is the contracting activity.
CV-22B is Bell Boeing V-22 Osprey U.S. Air Force variant for the U.S. Special Operations Command. It conducts long-range special operations missions and is equipped with extra wing fuel tanks, an AN/APQ-186 terrain-following radar, and other equipment such as the AN/ALQ-211, and AN/AAQ-24 Nemesis Directional Infrared Counter Measures. The fuel capacity is increased by 588 gallons (2,230 L) with two inboard wing tanks; three auxiliary tanks (200 or 430 gal) can also be added in the cabin. The CV-22 replaced the MH-53 Pave Low.
---