---
According to information published by Tass on June 8, 2022, a group of 47 warships, boats, and submarines will participate in Russia's Navy parade in St. Petersburg on July 31, Defense Minister Sergei Shoigu said.
Follow Navy Recognition on Google News at this link
---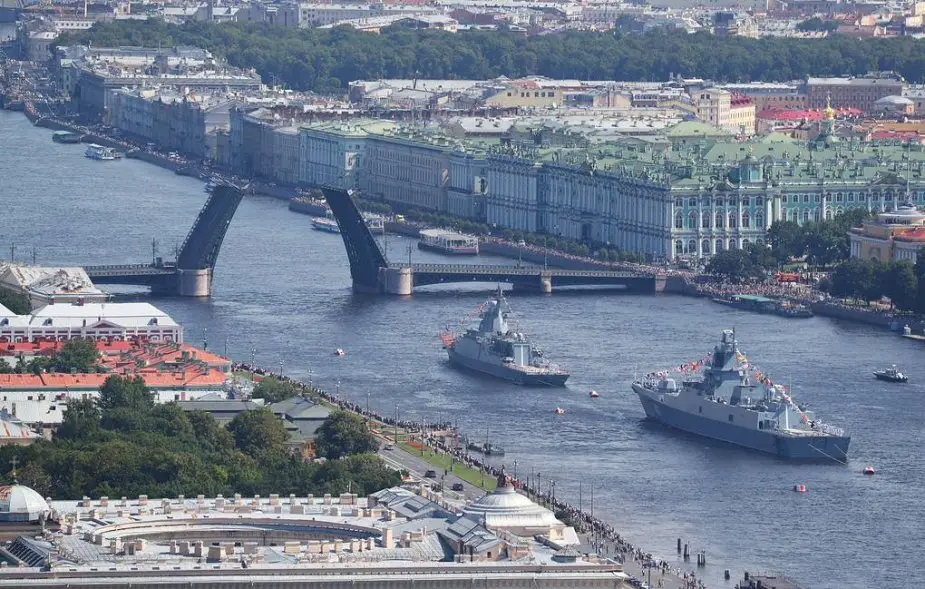 Chinese destroyer Xian and Indian frigate Tarkash in the military maritime parade in St. Petersburg on 2019 (Picture source: Tass)
---
According to him, the parade will also involve the first female crew of the Raptor patrol boat. A live broadcast will provide an opportunity for millions of spectators both in Russia and abroad to watch these events, the defense minister added.
About Raptor-class patrol boat
The Raptor-class patrol boat, formally identified as Project 03160, is a series of Russian high-speed coastal patrol boats. This project was developed by the design bureau of JSC Leningrad Shipyard Pella on the instructions of the Russian Navy. The boats are built at the Pella shipyard in the town of Otradnoye, Leningrad Region.
At least five Raptor-class patrol boats have been visually recorded as destroyed or damaged during the 2022 Russian invasion of Ukraine.
The boat has armor plates with Class Br4 bullet resistance and portholes with 39mm bullet-proof glass. She has a displacement of 23 tons, a length of 16.9 meters, a width of 4.1 meters, a draft of 0.9 meters, and a speed of 50 knots. The boat's range is 300 miles and its crew totals two or three. Special personnel is 20 men.
It is armed with a 14.5mm remotely-operated and stabilized optical-electronic module with a detection range of 3,000 meters and precision fire to a distance of 2,000 meters, as well as two Pecheneg 6P41 7.62mm machineguns.
---