---
According to a tweet published by Chris Cavas on November 8, 2022, the US Coast Guard commissioned the 50th Sentinel-class cutter William Chadwick.
Follow Navy Recognition on Google News at this link
---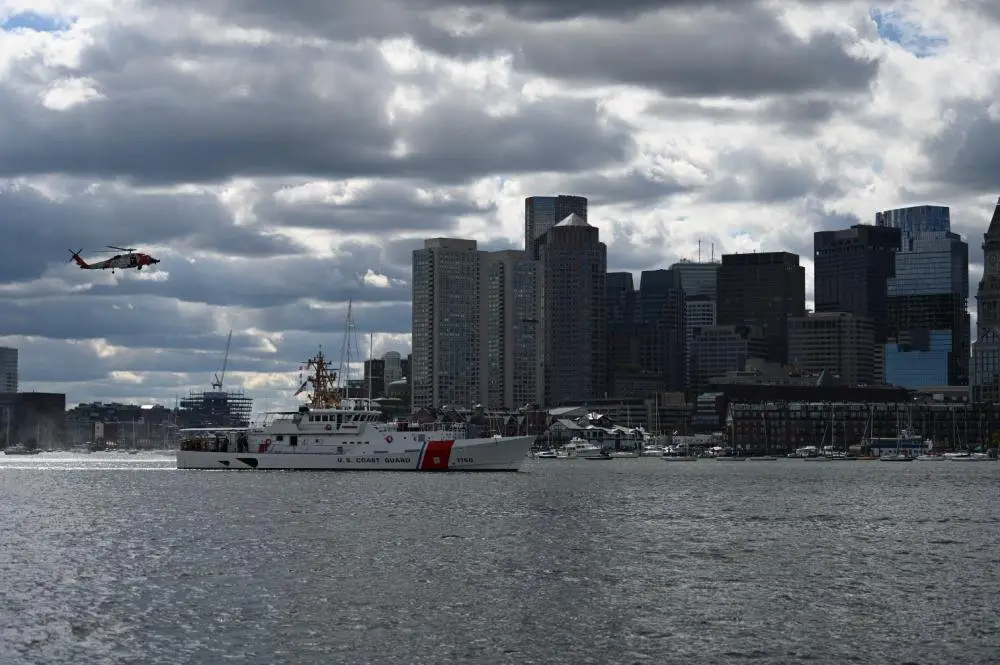 The Coast Guard Cutter William Chadwick transits through the Boston Harbor on its way to its new homeport at Coast Guard Base Boston in Boston, Massachusetts. (Picture source: DVIDS)
---
The Sentinel-class cutter, also known as Fast Response Cutter due to its program name, is part of the United States Coast Guard's Deepwater program. 
Up to 58 vessels are to be built by the Louisiana-based firm Bollinger Shipyards, using a design from the Netherlands-based Damen Group, with the Sentinel design based on the company's Damen Stan 4708 patrol vessel.
The vessels will perform various Coast Guard missions which include but are not limited to PWCS (Ports, Waterways, and Coastal Security), Defense Operations, Maritime Law Enforcement (Drug/migrant interdiction and other Law Enforcement), Search and Rescue, Marine Safety, and environment protection.
The FRC have a length of 46.8 m (154 ft), a beam of 8.11 m (26.6 ft), and a depth of 2.9 m (9.5 ft). They are powered by two 4,300 kW MTU diesel engines and can reach a top speed of 28 knots.
The vessels are armed with a remote-control Mark 38 25 mm Machine Gun System and four crew-served .50-caliber (12.7 mm) M2HB heavy machine guns.
They have a bow thruster for maneuvering in crowded anchorages and channels. They also have small underwater fins, for coping with the rolling and pitching caused by large waves.
They are equipped with a stern launching ramp, like the Marine Protector-class and the eight failed expanded Island-class cutters. They are manned by a crew of 22. The Fast Response Cutter deploys the 26-foot (7.9 m) Cutter Boat - Over the Horizon (OTH-IV) for rescues and interceptions.
Prior to the deployment of the Marine Protector class, the Coast Guard decided that all its cutters, even its smallest, should be able to accommodate mixed-gender crews, and the Sentinel-class cutters are also able to accommodate mixed-gender crews.
---