a
World Navy Force News - India
Indian Navy to induct 49 ships over five years, including aircraft carrier and Mig-29K jets
In a major build up of India's naval strength, the Indian Navy will add 49 ships to its fleet strength over the next five years, flag officer commanding-in-chief of the eastern naval command, vice admiral Anil Chopra said Saturday. Addressing a press conference on board INS Shakti, a fleet tanker of the Indian Navy on Saturday, Chopra said that the navy presently had 132 ships, including 14 submarines.

"49 ships and submarines, which are under construction, would be inducted in the next five years. Out of these, 45 are being built indigenously at the Indian shipyards, while four are being built outside India," Chopra said.

Some of the ships that to be inducted include the aircraft carrier Vikramaditya, which is being refitted in Russia. It would be stationed on the western seaboard in Mumbai.

Another aircraft carrier, designated the Indigenous Aircraft Carrier (IAC), being built at the Kochi shipyard, is likely to be stationed on the eastern seaboard with the eastern naval command here, he said.

"Other ships to be inducted include, three Shivalik class stealth frigates, four Kamorta class ASW corvettes, three Kolkata class project 15A, four project 15B ships, seven project 17A ships, three follow on 1135.6 ships, nine offshore patrol vessels, two cadet training ships," he said.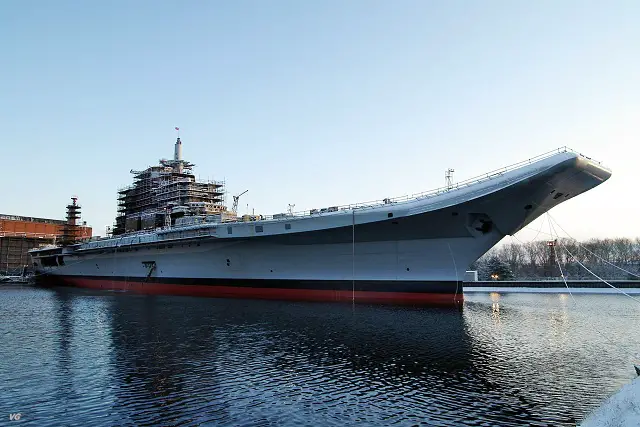 INS Vikramaditya, ex-
Admiral Gorshkov during refit
(picture: internet)
Apart from these, six catamaran survey ships and 95 fast interceptor crafts would also be inducted, vice adm Chopra added.

On the aviation side, the navy plans to induct multi-role helicopter, naval utility helicopter, MiG-29K fighter aircraft, Boeing P-8I long-range maritime patrol ASW aircraft, medium-range maritime reconnaissance aircraft, unmanned aerial vehicles, in addition to mid-life upgrade plans for Sea Kings and Ka-28 helicopters, he said.

The vice admiral said that apart from its primary role as a defence force, the navy is also playing diplomatic, constabulary and humanitarian roles.

"As part of diplomatic role, the Indian navy has been conducting joint naval exercises regularly with countries like Sri Lanka, Singapre, the UK and the USA, among others. The Indo-US Malabar exercise will be held in the Bay of Bengal next year," the vice admiral said.
From: domain-b