a
World Naval Forces News - Brazil / France
France is in the running for two aircraft carriers for Brazilian Navy
Brazil could continue to modernize its armed forces with the acquisition of two conventional aircraft carriers. Paris is a candidate for this market and sees a good opportunity for the Rafale multi-role fighter.

French Government services and the French manufacturer DCNS follow with great attention Brazil's decision on procuring two aircraft carriers. At this point, Brazilian Navy operates only one ship of this type: the São Paulo (former Foch sold used by France). Although it was refurbished, the São Paulo will soon have half a century of navigation. For this reason Brazil has plans to acquire vessels of the same type but more modern. Those new aircraft carriers would likely be CATOBAR (Catapult Assisted Take Off Barrier Arrested Recovery), the same type used by the US Navy, French Navy and Brazilian Navy with the ex-Foch.

On October 18, the Brazilian Minister of Defense visiting Paris addressed the subject, saying that his country "is starting to think about the need to build an aircraft carrier. This aircraft carrier, ideally would be built in Brazil, with the import of some technologies." In Paris, the information was taken seriously and things have been somewhat clarified since. Brazil plans to build two conventional aircraft carriers in its own shipyards, and seek foreign manufacturers for "assistance with project management." In other words, Brazil seeks assistance in design planning and implementation, as well as very specialized engineering support in military shipbuilding.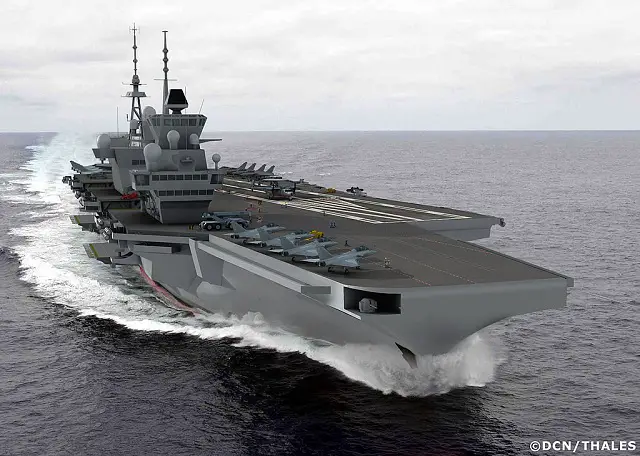 Thales and DCNS CVF-FR concept
(picture: DCNS / Thales)


DCNS "RXX" concept for French Navy's Future aircraft carrier shown during Euronaval 2010
(picture: Navy Recognition)
France is already providing Brazil with assistance to build the hull of a nuclear powered submarine
as we reported last month
. France also sold to the Brazilian Navy four Scorpene class SSK. Paris officials are expecting a decision From Brazil in the aircraft carriers "in the twelve to eighteen months," said an informed source. The budget issue on which the combat aircraft contract had stumbled is not seen as an obstacle to Paris, where one is convinced that the strategic ambitions of Brasília require it to continue to modernize its army.
Moreover, the French have not given up selling the Rafale to Brazil. France even considers the possible aircraft carriers procurement as a new opportunity. French industrial sources estimate that the Brazilian Navy is now the priority of the Brazilian defense: "They are the ones who understand that Brazil wants to change in size by acquiring SSNs and aircraft carriers." Reluctant to buy the Rafale, the Brazilian Air Force did not yield to the injunctions of politics. But the prospect of the procurement of modern aircraft carriers could change this, since there is a carrier-based version of the Rafale. It is also the case for Boeing's F-18, but not for the Gripen-NG, the third competitor engaged in the "F-X2" tender aimed to acquire 36 next generation fighters for the Brazilian Air Force. (Saab however has a project for a possible "Sea-Gripen")
From: Défense ouverte / Jean Guisnel