a
Naval Industry News - USA
Austal delivers first Joint High Speed Vessel - USNS Spearhead (JHSV 1)
The first Joint High Speed Vessel (JHSV), USNS Spearhead (JHSV 1), was officially delivered by Austal to the United States Navy on 5 December. The signing event was attended Craig Perciavalle, Sr. Vice President of Austal USA, representing the builder. The USNS Spearhead successfully completed Acceptance Trials in September and will sail away later this year.

Austal USA Interim President and Chief Financial Officer, Brian Leathers, had this to say regarding the delivery of Austal's first JHSV: "The delivery of the USNS Spearhead is a significant achievement for Austal and adds to the rich history of Mobile as a hub of shipbuilding activity in the United States. Austal USA has delivered 12 ships in 11 years, certainly a major contributor to the shipbuilding legacy of Mobile, Alabama."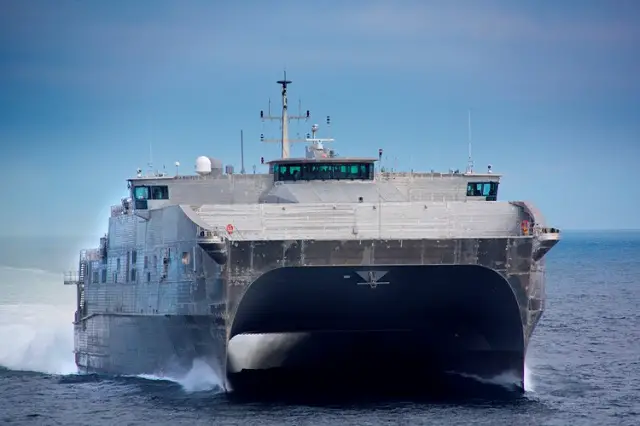 Spearhead class Joint High Speed Vessel during sea trials
(Picture: Austal)
The 103 metre (338 foot) long aluminium catamarans are designed to be fast, flexible and maneuverable even in shallow waters, making them ideal for transporting troops and equipment quickly within a theater of operations. The ship has the ability to support a variety of operations, supporting the warfighter through traditional logistics missions, humanitarian support projects, disaster response or by supporting maritime law enforcement activities.
"This delivery underlines our position as a global defence prime contractor and continues Austal's worldwide legacy as the premier provider of innovative, high-speed vessels, with capabilities to construct and support these and other vessels in a global market," said Andrew Bellamy, Austal's Chief Executive Officer.
Austal USA is a full-service shipyard offering design, construction and high-speed vessel service and repair. As Austal USA continues to expand its service and repair capabilities, the company is well-positioned for new business with engineering, test and trials capabilities, and a new waterfront facility on the Mobile Bay waterfront.
Austal is currently under contract with the US Navy to build nine 103-meter JHSVs under a 10-ship, $1.6 billion contract and five 127-meter
Independence-variant Littoral Combat Ship (LCS)
class vessels, four of which are a part of a 10-ship, $3.5 billion contract.
Spearhead class Joint High Speed Vessel during sea trials
(Picture: Austal)
For the LCS and JHSV programs, Austal, as prime contractor, is teamed with General Dynamics Advanced Information Systems, a business unit of General Dynamics. As the ship systems integrator, General Dynamics is responsible for the design, integration and testing of the ship's electronic systems including the combat system, networks, and seaframe control. General Dynamics' proven open architecture approach allows for affordable and efficient capability growth as technologies develop.

These two contracts will require Austal to increase its Mobile, Alabama workforce to approximately 4,000 employees in order to fulfil the contract requirements.