a
Naval Defense Industry News - USA
Boeing Delivers 1st P-8I Maritime Patrol Aircraft (MPA) to Indian Navy
Boeing on Dec. 19 made an on-site delivery of the first P-8I aircraft to the Indian Navy in Seattle, in accordance with the contract.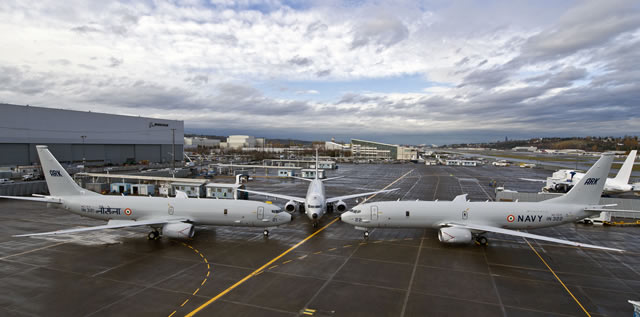 Three P-8I for the Indian Navy at the Boeing plant of Seattle
(Picture: Boeing)
India will receive this aircraft and two more of its eight contracted P-8Is in 2013. The program is progressing on schedule as Boeing assembles the fourth and fifth P-8Is, which are designed for long-range maritime reconnaissance and anti-submarine warfare.

The P-8 is based on the Boeing 737-800ERX airliner, but incorporates a host of modifications. The P-8A Poseidon for the US Navy will replace the P-3C Orion, now in its 50th year of service, as a long-range anti-submarine warfare, anti-surface warfare, intelligence, surveillance and reconnaissance aircraft. It will maximize the experience and technology of the Orion but with significant growth potential, greater payload capacity, advanced mission systems, software and communications. Six additional fuel tanks in P-8As allow for the jet's extended range.