a
Naval Forces News - France, UK
French Navy's "Forbin" & "HMS Diamond" Air Warfare Destroyers conduct joint training
The Marine Nationale's
Forbin
Air Defence Destroyer (Horizon class) met her Royal Navy counterpart
HMS Diamond (Type 45)
in the Mediterranean at the end of June. Off the coast of Spain, the two Destroyers carried out various operational maneuver.
The two vessels first simulated fire engagements in the field of anti-surface warfare with the support of Lynx helicopters of both nations. Then together, they jointly trained to repel air attacks by Rafale and Super Etendard fighters from the French carrier battle group.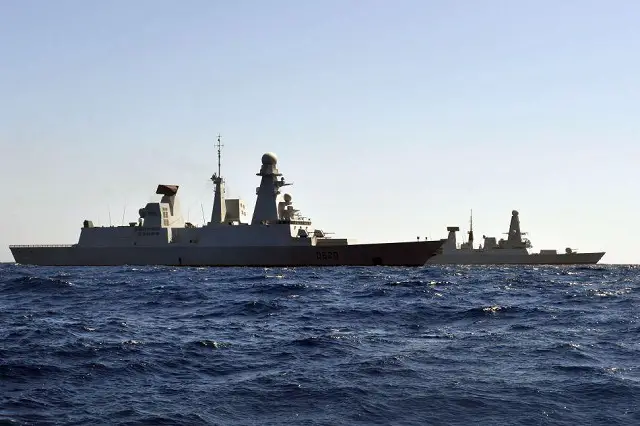 French Navy's Forbin and Royal Navy's HMS Diamond conduct joint maneuvers off the coast of Spain
(Picture: French Navy)
Horizon and
Type 45 class destroyers
share many similarities. In addition to their strong resemblance, the main anti-aircraft missile system comes from the same tri-national program: The Principal Anti Air Missile System (PAAMS).