a
Naval Forces News - Russia
Severodvinsk project 855 (Yasen class) submarine to be inducted into Russian Navy in late 2012
The head
multi-role nuclear submarine Severodvinsk of Project 885 /Yasen/
will be inducted into the Russian Navy in November-December 2012, a defence sector official said on Tuesday.
"It was planned to commission the Severodvinsk in June or July, but the fleet endorsed a very complex program of trials for the head submarine, whose volume exceeds standard trials by five times. So the submarine can only be taken in service in November-December," the official told an ARMS-TASS correspondent.
The Severodvinsk-based Sevmashpredpriyatiye is building two Severodvinsk-type submarines. The head submarine project was started in 1993, and the second unit /the Kazan submarine/ began in 1996. Russia plans to build seven to ten submarines of this type by 2020. The cost of the head submarine was estimated at over 30 billion roubles in 2010.
According to the defence sector official, the number of silo launches on nuclear submarines of Project "Borei" will increase from 16 to 20, starting from the fourth unit of the series.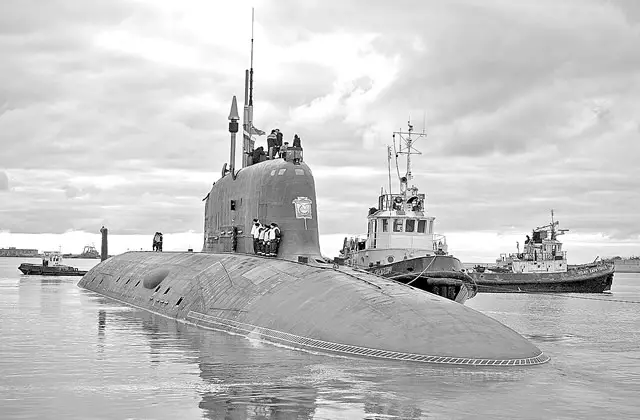 Project 885/Yasen class/Graney/Severodvinsk SSN datasheet
(picture: JSC PO Sevmash)

At present, nuclear submarines of Project 955 /Borei/ are armed with 16 three-stage solid-fuel intercontinental ballistic missiles R-30 /Bulava/ with a range of over 8,000 kilometers, equipped with multiple re-entry vehicles. Each head is comprised of six units.

The Yuri Dolgoruky, the Alexander Nevsky, and the Vladimir Monomakh will carry 16 intercontinental ballistic missiles each. The number of missiles on the fourth vessel of the series - the St Nicholas /Project 955A/ will increase to 20.

The Navy's headquarters confirmed the information that the fourth Bore submarine and all subsequent submarines of this project will carry 20 "Bulava" missiles each. The nuclear submarines Yuri Dolgoruky and Alexander Nevsky will be inducted into the Navy in July and December of 2012, respectively.

"The first submarine of Project 955 is being prepared for commissioning in June-July. The second submarine is expected to complete its trials by December 2012," the defence sector official noted.

Russia plans to launch the construction of the fifth, sixth, and seventh submarine of the project each year within the period from 2013 to 2015. In all, it plans to build eight submarines of this project.