a
World Navy Force News - India
INS Vikramaditya (ex-Russian Carrier "Admiral Gorshkov") getting ready for sea trials
A Former Russian aircraft carrier (Soviet-built Admiral Gorshkov) which was being refurbished for the Indian Navy is being prepared to begin its first set of sea trials. These trials are expected to last through the spring and end with a delivery to the Indian Navy planned for late 2012.

The Indian government purchased the Soviet-era carrier Admiral Gorshkov in 2004. The vessel has been refurbished at Russia's Severodvinsk White Sea shipyard. 1,400 Indian specialists have received training to operate the ship.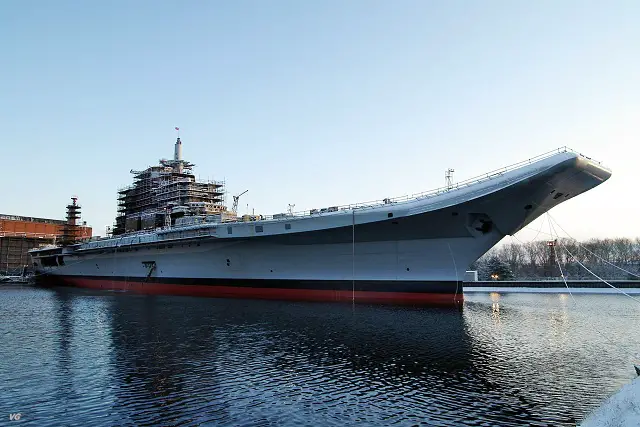 INS Vikramaditya, ex-Admiral Gorshkov during refit
(Picture: Internet)
According to a representative of the military-industrial complex quoted by Arm-TASS, the vessel will be delivered to India on December 4th. Delivery of the aircraft carrier by the end of 2012 had already been announced in September last year: it would seem that the delivery schedule remains unchanged. Russians and Indians had to overcome many difficulties associated with refinancing of the modernization of INS Vikramaditya and multiple postponements of delivery ensued over the last 8 years.

INS Vikramaditya will be operated in a STOBAR configuration, with a 14.3 degree ski-jump on the bow and three arrestor wires on the stern of the angled deck. This will allow the operation of 16 MiG-29K (and KUB) or Sea Harrier fighter aircraft and 10 helicopters.

The vessel is expected to displace 45,000 tons full load, with a length of 283 meters.