a
Naval Forces News - Australia
First 2 of 24 MH-60R Seahawk Romeos accepted by Royal Australian Navy
The Australian Defence Materiel Organisation (DMO) reached a significant milestone overnight when it took delivery of the first two of 24 MH-60R Seahawk Romeo maritime combat helicopters from the United States Navy.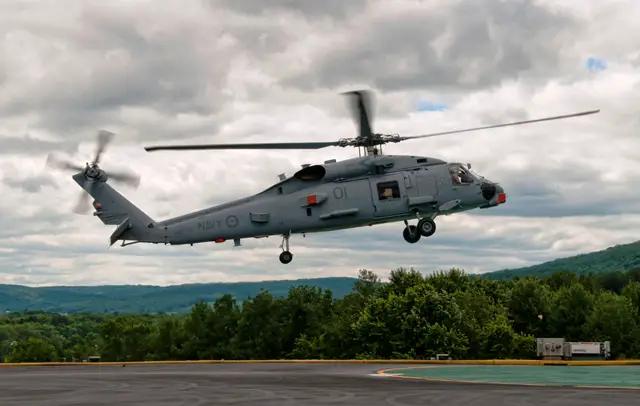 The first MH-60R Seahawk in Royal Australian Navy colors
Picture: Lockheed Martin
Speaking at the acceptance ceremony held at Lockheed Martin's production facility in Owego, New York, Rear Admiral Tony Dalton, DMO's Head Helicopter Systems Division, said the delivery of the first two Romeos today heralds a new era for the Royal Australian Navy's (RAN) Fleet Air Arm.
"Produced jointly in the United States by Sikorsky and Lockheed Martin, and in operation with the United States Navy (USN) since 2005, the Romeo is a potent maritime combat helicopter," Rear Admiral Dalton said.
"Romeo is an evolutionary step forward from Navy's current Seahawk 'Classic' which it is replacing, building on the known and trusted Seahawk air vehicle and incorporating state-of-the-art sensors in an open architecture, integrated mission system.
"Flying operations with Australia's first two Romeos will commence within the next few days at the United States Navy's Jacksonville Air Station in Florida."
Navy has established the beginnings of what will become 725 Squadron at Jacksonville to work alongside United States Navy Romeo squadrons for the next 12 months, where they will consolidate their flying and maintenance skills.
The Commanding Officer of 725 Squadron, Commander Dave Frost, said that his small team are excited to be introducing this new capability.
"The work that has been done by everyone in the DMO, RAN, USN and industry to reach this milestone is fantastic," Commander Frost said.
"My team are honoured to be given the responsibility for establishing the Romeo capability, one that will be centrepiece of the Fleet Air Arm for the next 30 years."
AIR 9000 Phase 8 was approved in June 2011 with a budget of $3.2 billion. The delivery of these first two aircraft was achieved on budget and six months ahead of schedule.