a
Naval Defense Industry News - USA, UK
Raytheon, Chemring Group complete first live-fire test of CENTURION launcher with Javelin Missile
Raytheon Company, acting through its Missile Systems business, and Chemring Group, acting through Chemring Countermeasures, successfully fired a
Javelin
missile from the multirole CENTURION® launcher during testing at the Defence Training Estate on Salisbury Plain in England.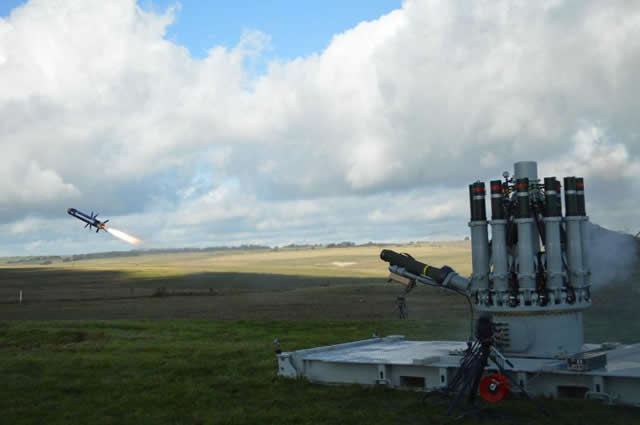 A Javelin missile is fired from Chemring's CENTURION(R) launcher during testing at the Defence Training Estate on Salisbury Plain in England.Raytheon-Chemring Countermeasures Photo. (PRNewsFoto/Raytheon Company)
"We're bringing an entirely new dimension to ship self-defense by providing a sea-based, inside-the-horizon platform protection," said Rick Nelson, vice president of Raytheon Missile Systems' Naval and Area Mission Defense product line. "Chemring's CENTURION launcher, when coupled with Raytheon's combat-proven missiles, offers an evolutionary capability to defeat surface threats with this One System-Multiple Missions technology."
Low-cost Anti-surface Weapon System
In February, Raytheon Missile Systems and Chemring announced plans to develop a naval anti-surface capability designed for ships ranging in size from small patrol boats to large combatants. This solution to counter fast inshore attack craft consists of a variety of Raytheon missiles with ranges matched to the intended target. The missiles will be fired from the Chemring CENTURION launcher, with initial target detection, tracking and identification provided by the ship's sensors.
"The progression towards the full integration of a suite of Raytheon missiles with the CENTURION® launcher, which can also deploy anti-ship missile countermeasures and anti-torpedo decoys, is a key goal towards the fielding of a multi-warfare discipline protection system that will be eminently suitable for small ships through to major combatants," said Mark Papworth, chief executive of Chemring Group. "This important milestone keeps the program on track to deliver a low-cost, effective and versatile solution."
About Javelin
Javelin is the world's most versatile and lethal one-man-portable, anti-tank, guided missile and surveillance weapon system. It is made by the Javelin Joint Venture, a partnership between Raytheon Company and Lockheed Martin. Javelin has been adopted by international armed forces around the world. It is currently fielded with the U.S. Army and U.S. Marine Corps and has also been approved for foreign military sales to 13 nations.