a
Naval Forces News - France
French Navy Aquitaine FREMM Frigate succesfully fires its first MBDA Aster 15 surface-to-air missile

On Monday, 4th February 2013, first of class
Aquitaine, the newest class of frigate
in the French Navy's fleet, has successfully fired its first MBDA Aster 15 air defence missile in the Mediterranean from the DGA (French Procurement Agency) Missile test centre. The FREMM is the third type of ship of the French Navy equipped with Aster missiles after the Charles de Gaulle nuclear powered Aircraft Carrier (CVN) and the Forbin class air defense Destroyers (DDG).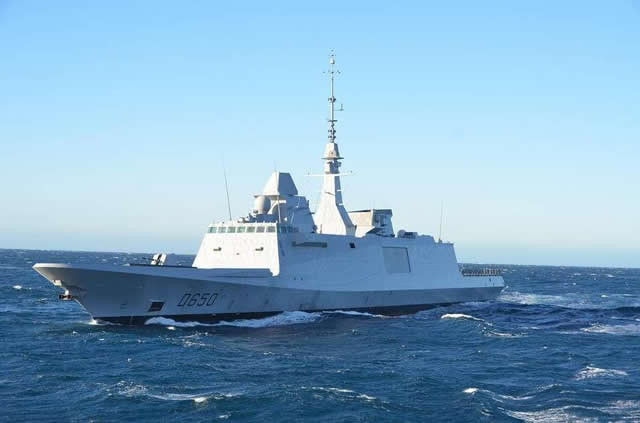 Aquitaine Frigate in the Mediterranean
(Picture: French Navy)

The firing took place as part of the Military Specifications Verification procedure of the Frigate, a further step towards its admission to Active Service in the French Navy. "This firing has allowed the French Navy to validate concretely all stages of the launch of an Aster 15 missile from a FREMM" says CV Benedict Rouvière, Aquitaine's Commanding Officer. "The firing sequence encompasses the complete process from the loading of the missile until the actual destruction of the target covering the key phases of the target detection by radar and the target engagement by the ship's combat system operators."

This test firing was prepared and conducted in cooperation by the crew of the Aquitaine and teams from the DGA, DCNS, MBDA and OCCAR (Organisation for Joint Armament Cooperation). For all of them this success marks a new step in demonstrating the capabilities of the FREMM.
"The validation of this Aster firing provides the Aquitaine with the fundamental capability of its auto-defence system,"
adds CV Rouvière.
Designed and built by DCNS, FREMM type Frigates
are heavily armed: MM40 Blk III Exocet anti-ship missiles, Aster anti-air missiles and MU90 torpedoes. The first nine frigates will predominantly conduct anti-submarine warfare missions, while the last two frigates, specialised in anti-aircraft warfare, are designed to protect a carrier or amphibious battle group against aircraft and missiles. All FREMM can also accomodate the Caïman Marine helicopter (NH90 NFH), as well as Special Forces and their equipment.
From: French Navy