a
Naval Forces News - Russia
Baltiisky shipyard Completes Stern for First Russian Mistral class LHD "Vladivostok"
The stern of the Russian Navy's first
Mistral-class amphibious assault ship
was floated out on Wednesday, a Russian shipyard said. The Vladivostok is to enter service with the Russian Navy next year, Baltiisky shipyard chief Alexander Voznesensky said.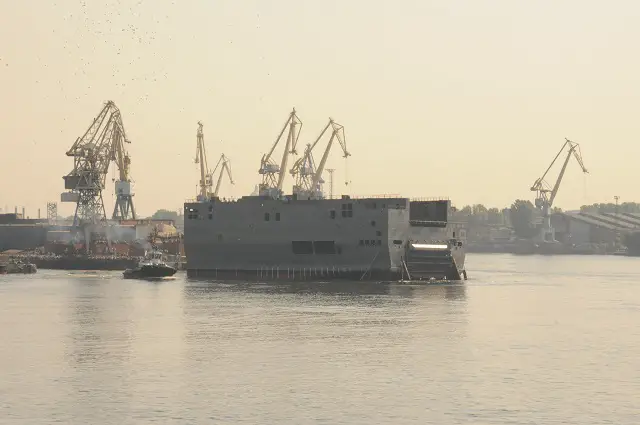 The stern of the first BPC-type projection and command vessels for Russia will now be shipped to France for final assembling
Picture: Spinch / forums.airbase.ru

The stern will begin to be towed to France on July 8 and is expected to arrive there on July 25, said Yves Destefanis, a representative of the French contractor, DCNS.
The ship will be completed at a French shipyard and floated out on schedule, on October 15, he said.
Earlier this month, Deputy Defense Minister Yury Borisov said the stern might not be completed within deadline, but Dmitry Rogozin, a deputy prime minister in charge of the defense industry, days later refuted that remark, saying: "The ship will be ready on time."
Similar in size to the French Navy Mistral class, the Russian Navy version (Vladivostok class) will receive only minor modifications, including an increased hangar height to accomodate Kamov helicopters, reinforced hull to operate in Arctic zones, specific warming devices on deck, russian weapons (AK-630M, 3M-47 Gibka and MPTU) and systems.

Read our analysis on the Russian Navy future Mistral class LHD, specificities and characteristics