a
Naval Forces News - Iran
Iran Launches news "Jamaran 2" Frigate in Caspian Sea
Iran launched its second Mowdge class "destroyer" (Frigate class according to western standards), dubbed as "Jamaran 2", on Sunday after a reported development that took six years. The "Jamaran 2" appears to be an evolution of the existing Jamaran Frigate design, sporting new electronic and weapon systems.

The new Frigate was launched in the Caspian Sea during an official ceremony attended by Iran President Mahmoud Ahmadinejad, Chief of Staff of the Iranian Armed Forces Major General Hassan Firouzabadi, Iranian Defense Minister Brigadier General Ahmad Vahidi, and Iranian Navy Commander Rear Admiral Habibollah Sayyari.

In a statement, the Iranian Defense Ministry said that "the destroyer which has been designed and developed by Iranian experts uses the state-of-the-art navigation systems and domestically-made sophisticated defensive equipments."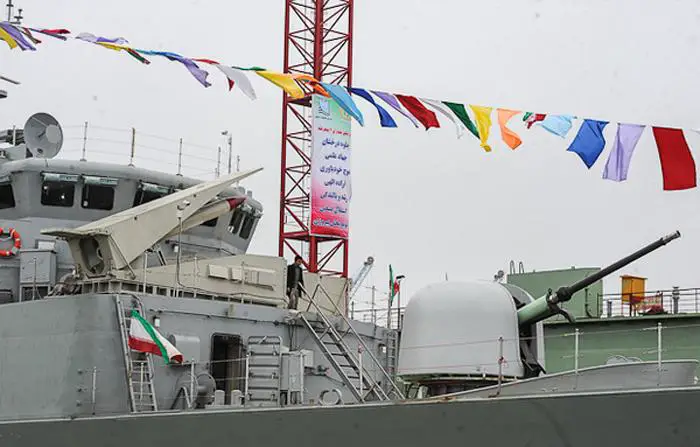 Detailed view of Jamaran 2 Frigate's main gun and Fajr SAM launcher
Picutre: Internet
Jamaran 2 Frigate speculated specifications are the following:
Length: 94 m
Width: 11 m
Draught: 3.3 m
Displacement: 1,400 tons
Maximum speed: 30 knots, équipage entre 120 et 140 personnes.
Crew: Approx. 130 sailors

The following weapon systems appear to be fitted onboard:
1x Fajr-27 76mm main gun
4x Fajr (locally made SM-1) Surface to air missile launchers
4x Noor (C802) Anti-ship missiles
2x triple torpedo launchers