a
Naval Industry News - USA
US Navy Awards General Dynamics contract for Afloat Forwarding Staging Base (AFSB) variant MLP
The U.S. Navy has awarded General Dynamics NASSCO a $498 million contract for the detail design and construction of the Mobile Landing Platform (MLP) Afloat Forward Staging Base (AFSB). NASSCO is a wholly owned subsidiary of General Dynamics.
The Lewis B. Puller successfully completed launch and float-off at the General Dynamics National Steel and Shipbuilding Co. (NASSCO) shipyard Nov. 6. Picture: NASSCO
Under this option, NASSCO will provide the detail design and construction efforts to build the second AFSB of the Mobile Landing Platform-class ships. The work will be performed at NASSCO's San Diego shipyard and is scheduled to be completed by March 2018.
The ship is designed around four core capabilities - aviation, berthing, equipment staging area, and command and control - and optimized to support a variety of maritime missions. Picture: NASSCO
The MLP AFSB is a flexible platform and a key element in the Navy's large-scale airborne mine countermeasures mission. With accommodations for 250 personnel and a large helicopter flight deck, the MLP AFSB will provide a highly capable, innovative and affordable asset to the Navy and Marine Corps.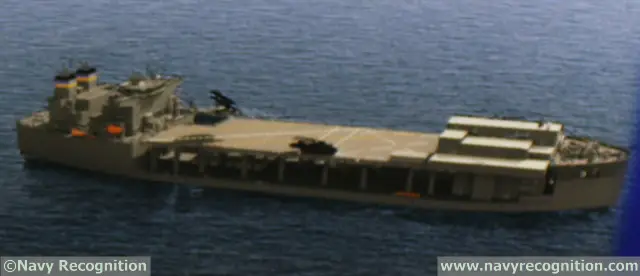 The AFSB current design could be modified in order to accomodate MV-22 tilt rotor aircraft
Speaking to Navy Recognition during the Sea-Air-Space 2014 exposition, Tom Wetherald (Director of Business Development at GD NASSCO) explained that there is an accommodation block located forward for up to 250 personnel for the flight crew or other mission personnel such as Navy Seals or Marines. This space also features a hangar capable of fitting two MH-53 helicopters plus aviation maintenance and mission specific spaces.

The ship retains the capability of ballasting down. Eventhough the ship is configured for air mine countermeasure missions with MH-53 helicotpers, NASSCO believes the US Navy is about to order a study on the ability of AFSB to handle the MV-22. It should not be a significant job to modify the existing design in order to handle the MV-22. AFSB will have an endurance of over 9,500 nautical miles at a speed of 15 knots.