a
FREMM Aquitaine
class Frigate - DCNS


(Also known as Anti-submarine Frigates, ASW Frigates, multi-mission Frigates, Mohammed VI class)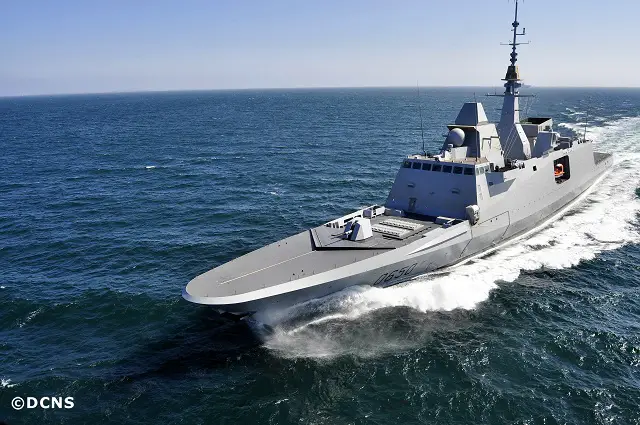 Aquitaine class FREMM is a class of multi-mission frigates designed by French shipbuilder DCNS. France plans to operate eleven FREMM frigates which will be the backbone of the French Navy (Marine Nationale). Designed for AAW, ASW and ASUW missions, these true multirole vessels are also capable of carrying out deep strikes against land targets. Morocco also ordered one Frigate of this class, the vessel to be named Mohammed VI is set to become the flagship of the Royal Moroccan Navy.
Shiplist
| | | | | |
| --- | --- | --- | --- | --- |
| Name | | Navy | Commissioned | Homeport |
| | | | | |
| | | | | |
| Tahya Misr (ex-Normandie) | | | | |
| | | | | |
| | | | | |
| | | | | |
| | | | | |
| | | | | |
| | | | | |
| | | | | |
-

FREDA/FREMM-ER:

Anti-Aircraft variant based on the FREMM Aquitaine class, with enhanced capabilities in the field of area Anti-Air-Warfare (AAW). Two vessels of this variant are set to replace the existing French Navy Cassard class AAW Frigates in the early 2020ies.
- Other possible variants depending on customer requirements: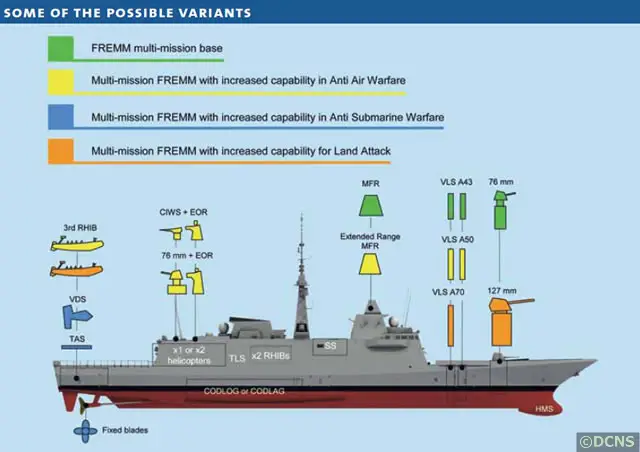 Technical Data
Back to top
Design
The FREMM design offers a perfect balance between stealth and hitting power. Hard-kill and soft-kill weapons, associated with a discretion profile, are selected to offer the best cost/efficiency ratio. Each component is integrated bearing in mind that a warship is no longer an accumulation of sensors and weapons but a complex system to be designed as an optimized ensemble. Thus, the performance of this system is greater than the sum of its components.

The proven solutions of the La Fayette class stealth frigates have been applied and extended to the acoustic, magnetic and IR domains:
» Electric propulsion guarantees a reduced acoustic signature for antisubmarine operations
» Exhaust gases of diesel generators are cooled
» Openings are masked and decks are covered over
» The degaussing system is adapted to the new mines threats

A mixed propulsive system offers great flexibility: it combines silent electric motors (cruising) with gas turbines (high-speed and rapid acceleration).
Missions
The FREMM is a front-line warship designed to form the operational backbone of major navies. The FREMM class can respond to all kinds of threats, whether from land, sea or air. Acting alone, a FREMM can assume a multitude of missions, from escort duties to naval gunfire support. As part of a joint task force, a FREMM can accommodate a fleet operations staff and, with an excellent C4ISR capability, can direct warfare in one or several spheres.
Weapons
Anti-air missiles:


16x MBDA ASTER 15 (in VLS A50 cells)

Anti-ship missiles:


8x MBDA Exocet MM40 Block III

Land attack cruise missiles:


16x MBDA Naval Scalp (MdCN) (in VLS A70 cells)

Guns:
1x Oto Melara 76/62 Super Rapid main gun
2x Nexter Narwhal 20mm remote weapon stations
2x 12.7 mm M2-HB Browning machine guns

ASW:


2x fixed torpedo launchers (19x MU-90 torpedoes)
Sensors, Electronics and Decoys
Combat Management and Information Systems:


DCNS SENIT Combat Management System (CMS)
Thales SIC 21 Command and Control Information System (C2IS)
Optronics:
1x Sagem VIGY MM Multi-mission naval electro-optical fire control system
1x Thales ARTEMIS naval Infrared Search and Track (IRST) system

Radars and ESM:


1x Thales HERAKLES Phased Array 3D Multi Function Radar
1x Thales VIGILE ESM/ELINT system
1x Thales TSB 3520 ATC & IFF Combined Interrogator Transponder
1x Thales ALTESSE-C wideband Communication ESM (C-ESM)
Sonars:
1x Thales UMS 4110 CL Low Frequency Active and Passive Bow Mounted Sonar (BMS)
1x Thales CAPTAS 4 / UMS 4249 Low Frequency Active and Passive Variable Depth Sonar (VDS)

Decoys/Counter measures/Jammers:


2x SAGEM NGDS (New Generation Dagaie System) multiple decoy launchers
2x SIGEN R ECM Electronic Warfare systems combining Thales ESM sensors and Elettronica jammers
Communications:
Link 11
Link 16
Satellite links: Inmarsat, SYRACUSE, Athreis
Thales TUUM-6 Digital Underwater Communication System
Thales TRN 4000 Fixed Frequency UHF Transceiver
Thales PARTNER Communication Management System
Navigation:


Sagem SIGMA 40 Inertial Nagivation System
Engines/Propulsion
Combined diesel electric or gas (CODLOG) type: GE LM2500 gas turbines
Specifications
Type

Crew

Crew: 108
Accommodation: 145 to 180


Operators

French Navy, Royal Moroccan Navy

Performance

Speed: >27 kts
Range: 6,000 nm @ 15 kst
Endurance: 45 days

Displacement

Propulsion

CODLOG
Combined diesel electric or gas


Aircraft

2x 10 ton class helicopters

Dimensions

Length: 142 m
Bream: 20 m
Maximum Draft: 7.3 m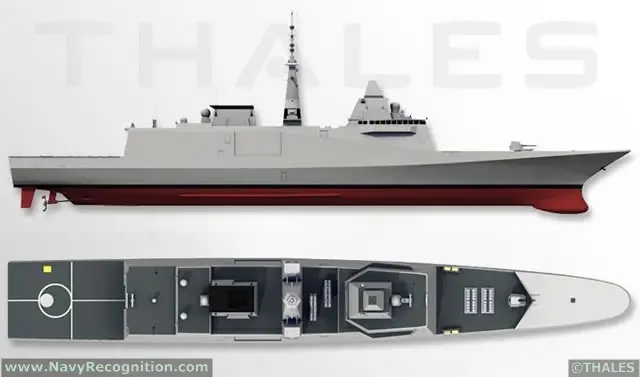 Back to top