a
Arleigh Burke Flight I & Flight II Class destroyer- United States Navy

Arleigh Burke DDG 51 Guided Missile Destroyer - USN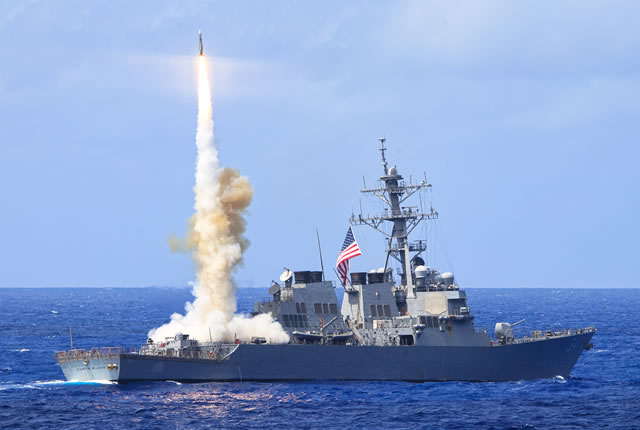 All pictures by US Navy
The Arleigh Burke class guided missile destroyers are the backbone of the US Navy. They are multi-mission [Anti-Air Warfare (AAW), Anti-Submarine Warfare (ASW), and Anti-Surface Warfare (ASUW)] surface combatants. The destroyer's armament has greatly expanded the role of the ship in strike warfare utilizing the MK-41 Vertical Launch System.

The Arleigh Burke class employs all-steel construction and is comprised of three separate variants or "Flights": DDG 51-71 represent the original design and are designated Flight I ships; DDG 72-78 are Flight II ships; DDG 79 and Follow ships are built or are being built to the Flight IIA design. The Flight III baseline is planned for the second ship in FY16.

The Arleigh Burke-class of guided missile destroyers (DDGs) is the United States Navy's first class of destroyer built around the Aegis Combat System and the SPY-1D multi-function Passive electronically scanned array radar. The class is named for Admiral Arleigh Burke, the most famous American destroyer officer of World War II, and later Chief of Naval Operations. The class leader, USS Arleigh Burke, was commissioned during Admiral Burke's lifetime.

Arleigh Burke–class destroyers have many combat systems. Burkes have the US Navy's latest anti-submarine combat system with active sonar, a towed sonar array, and anti-submarine rockets. They support strategic land strikes with their VLS launched Tomahawks.They are able to detect anti-ship mines at a range of 1280m.

So vital has the Aegis Ballistic Missile Defense System (BMD) role of the class become that all ships of the class are being updated with BMD capability. Burke production is being restarted in place of additional Zumwalt-class destroyers.
Shiplist
Builder

Launched

Commissioned

Curtis Wilbur

Stout

John S. McCain

Mitscher

Laboon

Russel

Paul Hamilton

Ramage

Fitzgerald

Stethem

Carney

Benfold

Gonzalez

Cole

The Sullivans

Milius

Hopper

Ross

Flight I

I Names

Mahan

Decatur

McFaul

Donald Cook

Higgins

O'Kane

Porter
- DDG 51 Flight I
- DDG 51 Flight II
- DDG 51 Flight IIA
- DDG 51 Flight III

Technical Data
Back to top
Missions
» Strike against land targets
» Long range, area air defense
» Escort of high value assets such as Aircraft Carrier and Amphibious Vessels
» ASW, AAW, ASUW, EW
» Long range patrol and surveillance
Design
The ships have steel superstructures and the first comprehensive CBR protection system in a U.S. Navy ship. More than 130 tons of Kevlar or plastic armor are used for vital spaces, including 70 tons around the combat control spaces. In a weight-saving program, DDG 78 and later employed about 50 tons less structural steel than earlier ships. The hull form is unusually broad in relation to length; fin stabilizers are not fitted, but they do have rudder roll-rate reduction. Prairie/Masker air bubbler systems are fitted to the hulls and propellers to reduce machinery noise radiation below the waterline.
Weapons
Guns:
» 1x 127-mm 54-cal. Mk 45 Mod. 1 DP
» 2x 20-mm Mk 15 Mod. 12 Phalanx gatling CIWS
» 2x 25-mm 75-cal. Mk 38 Mod. 1 Bushmaster guns
» 4x 12.7mm machine guns.
Missiles:
» 90x Mk 41 Mod. 0 VLS for SM-2, SM-3, SM-6, ESSM, VLA ASROC and Tomahawk missiles
» 8x RGM-84C Harpoon SSM
Torpedoes:
» 2x triple 324-mm Mk 32 Mod. 15 ASW TT
Sensors, Electronics, Decoys
Combat Management, Information and Communications Systems:


Aegis Baseline 3A/5: DDG 51,52, 54-56, 58-63, 64, 65, 67-73, 75-77 (Aera AW: SRBM, MRBM, Limited IRBM)
Aegis Baseline 9: Modernized destroyers DDG 51, 52, 53, 57, 65, 69 (SM-6; IAMD, BMD 5.0/5.0 CU, SM-3 Blk IA, IB)
1x Joint Tactical Information Distribution System JTIDS (Flight II)
Optronics:
1x Kollmorgen Mk 46 Mod. 0 optronic director

Radars and Sensors:


1x Lockheed Martin SPY-1D 3D search/weapons control radar
1x Raytheon SPS-64(V)9 navigation radar
1x AIL SPS-67(V)3 surface search radar
3x Raytheon SPG-62 target illumination radar
2x Mk 90 Phalanx fire control radar

Sonar:


1x SQQ-89(V)4 suite
1x SQS-53C(V)1 bow-mounted sonar
1x Kingfisher mine-avoidance sonar
1x SQR-19B(V)1 towed array sonar

Decoys/Counter measures/Jammers:


1x Raytheon SLQ-32(V)5 (DDG 68–on: SLQ-32(V)3) active/passive
1x Mk 36 Mod. 12 SRBOC decoy syst. (4 6-round Mk 137 RL)
1x SLQ-25A Nixie towed torpedo decoy (with SSTD Phase I)
1x SLQ-39 decoy buoy launch system
1x Sanders SRS-1A combat D/F (DDG 72–78 only)
4x twin Mk 53 Nulka decoy RL (DDG 52 only)
Engines/Propulsion/Power
Propulsion type: Gas
Diesel engines: 4 × G.E. LM-2500-30 gas turbines each generating 26,500 shp (19,800 kW)
2x shafts driving a five-bladed reversible controllable-pitch propeller;
Specifications
Type

Crew

30 officers + 302 enlisted

Operators

Performance

Speeds: 31+kts (max)
Range: 4,400 nm @ 50 kts
Endurance: ?

Designer / Builder

Bath Iron Works / Ingalls Shipbuilding

 

Displacement

Aviation

Flight deck only for a MH-60

Dimensions

 

Length: 154/155 m
Beam: 20m
Maximum Draft: 9.3m

Back to top